Nikon D200
10.2-megapixel digital SLR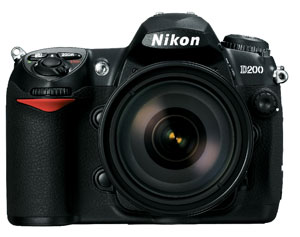 Nikon continues to expand its line of digital SLRs with the release of its new D200. The Nikon D200 is a major step up from its predecessor, the D100, and incorporates many of the features found in its big brother, the D2X. With a price of only $1,699 (body only), the 10.2-megapixel Nikon D200 is sure to raise eyebrows and get lots of attention.
The Nikon D200 may be available at an amateur price but its build quality is pure professional. Built around a 10.2-megapixel DX CCD and a magnesium alloy frame with rubber O-ring seals at every seam to help protect the camera from moisture and dust, the D200 is ready for just about anything. The body design makes the D200 feel as though the engineers at Nikon gave as much thought to user comfort as they did to features and performance. The D200 feels natural, like an extension of your hand, so there's no fumbling for controls or discomfort after prolonged use.
The Nikon D200 has an extensive feature set including exposure bracketing, multiple exposure, depth-of-field preview, wireless image transfer, and GPS support options. Its shooting modes include auto, aperture priority, shutter priority, and full manual, plus five flash sync modes including normal, red-eye reduction, red-eye reduction with slow sync, slow sync, and rear-curtain sync. The Nikon D200's ISO range goes from 100 to 3200 (at the high 1.0 setting). The ability to make exposure compensation adjustments from +/-5 in either 1/3-, 1/2-, or full-stop increments; flash exposure compensation from -3 to +1 in 1/3- or 1/2-stop increments; white balance bracketing; high-speed shooting up to five frames per second; mirror lock-up; a 10-pin remote terminal; PC sync terminal, and more make the D200 an incredibly flexible and professional tool.
Nikon built five shooting banks and five custom settings banks into the D200. These banks can be programmed with unique combinations of features and settings suitable for different types of shooting, and are quickly and easily applied through the camera's menu system, which itself is intuitive and simple to navigate. The D200's shooting banks can be renamed by the user, making them easy to identify and switch between.
The Nikon D200 looks great on paper and its real-world performance backs it up. The D200 can shoot compressed and uncompressed RAW, JPEG and RAW+JPEG. Its electronic shutter goes up to 1/8,000 second in 1/3, 1/2, and one full step, plus bulb. Its buffer can handle up to 22 RAW or 37 JPEGs continuously at five frames per second. The D200's new 11-area Multi-CAM autofocus system is fast and accurate, even in low light, and adds a 7-point wide-area autofocus system that does a great job of tracking moving subjects. The 3D Color Matrix Metering II metering system delivers with accurate exposures, and a luminance histogram is joined by separate RGB histograms providing you with the exposure information you need when you need to know it – in the field. Colors in images taken with the D200 were incredibly accurate with particularly beautiful reproduction of skin tones, without the need to switch off the auto white balance.
With the Nikon D200, noise is no longer a factor. In fact, in a properly exposed image from ISO 100 to 800, noise isn't even visible to the naked eye. Even at ISO 1600, the D200 delivers beautiful images with very low noise. With its combination of price, features, performance, and robust build, the Nikon D200 is highly recommended for amateurs and professionals alike. Nikon has hit a grand slam with the D200.–Dave Singer
PRICE: $1,699.95 (body only)
FROM: Nikon Corporation
PHONE: 800-645-6689
WEB: www.nikonusa.com
RATING: 5
LAYERS VERDICT
HOT Incredible performance; incredible price
NOT