Macromedia Dreamweaver 8

Upgrade includes significant improvements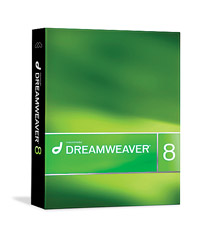 While the new Macromedia Dreamweaver 8 isn't a huge upgrade, there are features that make it worth considering. One of the first things I rejoiced over was that the preferences no longer default to "Use CSS Tags Instead of HTML Tags." This setting, introduced in MX 2004, was the cause of many headaches for people who didn't know anything about CSS. This version also more closely aligns the Macintosh and Windows versions: Macintosh users will appreciate the tabbed document window, which was previously available only to Windows users.
The new Guides make it easier to lay out complex page structures. You can also choose the resolution for which you're designing from a selection of preset guides. Instead of resizing the page you're working on, as in previous versions, Dreamweaver 8 displays guides on the page marking the viewable area. The new Zoom tool makes it easier to examine different areas of your document.
The new visualization tools for working with Cascading Style Sheets (CSS) were created with designers in mind. In the past, working with CSS required previewing a page in a browser to see how it would display all but the most basic styles. Dreamweaver 8 more accurately renders CSS, including styles that use overflow, pseudo elements, and form elements. The addition of the Style Rendering Toolbar allows you to view how your page will look on a screen, in print, or on a handheld device.
The ability to see all style properties applied to a selected element is a great new feature for troubleshooting CSS. When an element is selected, a pop-up appears displaying all of the element's relevant properties and styles. In addition, when you select an item that has CSS padding or margins applied to it, Dreamweaver displays light-colored backgrounds showing the areas and dimensions. Another nice visualization feature is the ability to show outlines of CSS blocks, such as <div> tags, on your page. The new unified CSS panel consolidates the tools for creating, analyzing, and editing CSS styles.
The Insert Flash Video command makes it easy to add Flash Video to your webpage via a Flash component. Macintosh users will need to use an absolute path if your FLV file is in a directory two or more levels up from the HTML file.
The improved FTP engine incorporates a new background FTP, which allows you to continue working in Dreamweaver while transferring files from your hard drive to your Web server. In previous versions, you had to wait for Dreamweaver to finish transferring files before you could continue working.
If you spend much time on the Web, you know that XML-based data, such as RSS feeds, are everywhere. Dreamweaver's inclusion of XML binding in the Bindings panel makes it easy to add elements of a feed onto your page.
Dreamweaver's Code View has undergone significant changes. The new Code Toolbar (located along the left gutter of the Code window) conveniently displays a list of scripting tools. One of my favorite enhancements is the new Code Collapse and Expand tool that lets you hide and expand blocks of code.
For developers who create dynamic sites, there's updated support for PHP 5 and ColdFusion MX 7. New server behaviors and code hinting have been added for both.
While there are many new and improved features in Dreamweaver 8, it would have been nice to see the JavaScript Behaviors updated. The drop-down menu behavior introduced in MX 2004 continues to be clunky and unless you're a JavaScript coder, you'll have to purchase extensions if you want more powerful form validation.—Cyndy Cashman
PRICE: $399 (Upgrade $199)
FOR: Mac and Windows
FROM: Macromedia, Inc.
PHONE: 800-526-0509
WEB: www.macromedia.com
RATING: 4