On Location Photography Tutorial: Fly Fishing | KelbyOne
On Location Photography Tutorial
Living near Colorado's only wild and scenic river, the Cache la Poudre, has its advantages. I can head out for a day of kayaking and rafting in the spring, or go swimming in a deep eddy on a hot August day. But if I really want to relax, I will bust out my fly rod and head to the river. Nothing can compare to the therapeutic calming of casting a fly into a clear mountain stream. Recently, a friend headed to the Poudre River for some fishing, and I tagged along to capture the moment. My goal was to create an image that illustrated the peaceful solitude of fly fishing. To minimize my impact, I packed a small lighting kit of three SB-900 Speedlights and a couple of stands. I made an oath to Randy, the fisherman, that I wouldn't scare any lunker brown trout away. Never make promises you can't keep!
Step One
We arrived at a pleasant bend in the river where Randy wanted to fish. I liked the location instantly. For starters, it was close to the road, so I wouldn't have to haul lighting gear very far. But more importantly, a row of leafless trees curved into the scene, adding a nice "visual handrail" to the shot. What was lacking was interesting light. Overcast skies bathed the scene in flat, zero-contrast light. I took a couple of shots of Randy, and he merged seamlessly with the busy brown background—not good. Since I wasn't trying to re-create a Bev Doolittle painting, I knew I needed to add a touch of light to Randy and create some separation in the scene.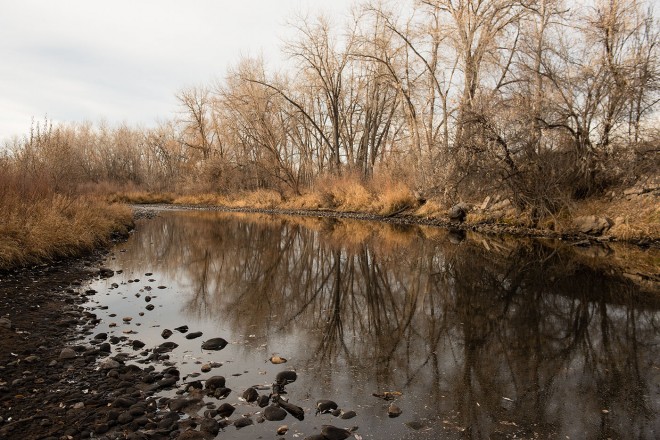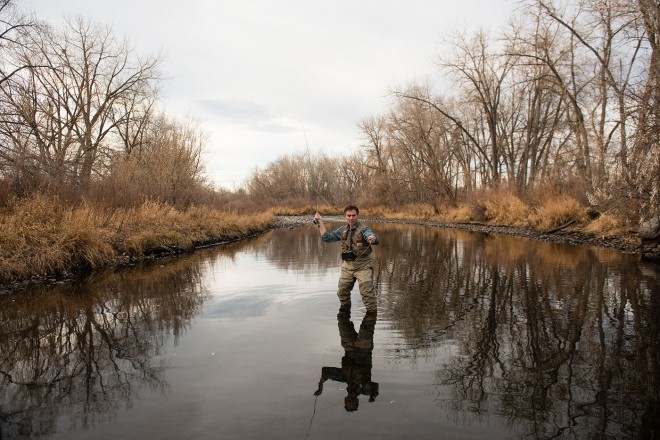 Step Two
I decided to start simple and use one SB-900 to add fill light on Randy. Because the flash was going to be precariously positioned in moving water, I added a PocketWizard FlexTT5 to the SB-900. The PocketWizards are very reliable for outside shooting. They use a radio signal, which isn't affected by the sun, and don't need line of sight to work. One thing I've learned shooting in whitewater and rivers; no matter what precautions you take, sometimes the river has different plans for you (imagine watching your flash float past as you helplessly watch from shore). The last thing I wanted to do was wade back and forth across the river to fix a glitchy flash signal.
I attached the flash to a Lastolite TriFlash Bracket, and used a Manfrotto stand and mini boom to angle the flash toward Randy.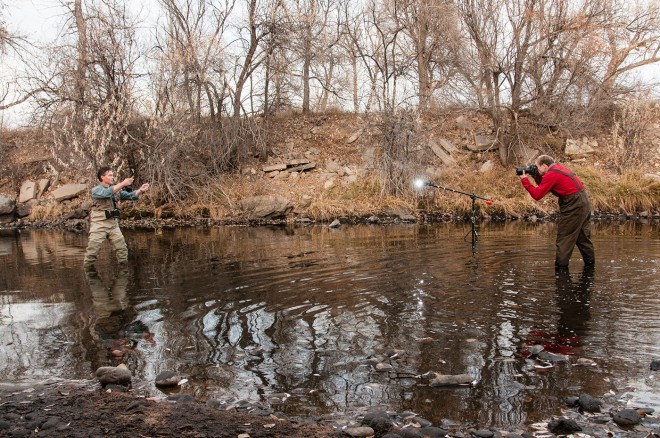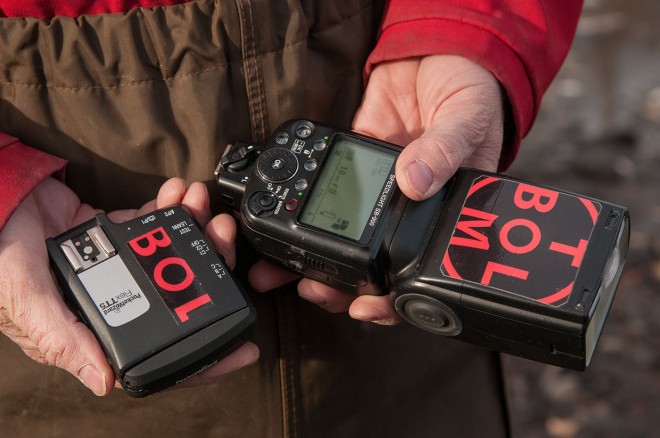 Step Three
Using a PocketWizard AC3 ZoneController with the FlexTT5 gave me control of my SB-900 output. My flash was about 12′ away from Randy, so it wouldn't be in the shot. I zoomed the flash to 200mm to project the light onto Randy and not spill onto the water, but I still had a problem; each flash burst took a lot of power, and my recycle time was working at a snail's pace. One way to improve small flash recycling time is to add more flashes. Since I was using a TriFlash bracket, I added two more SB-900s (for a total of three), effectively splitting the flash job into thirds so each flash had to work less. Now my recycle times were really fast, and Randy was more evenly illuminated.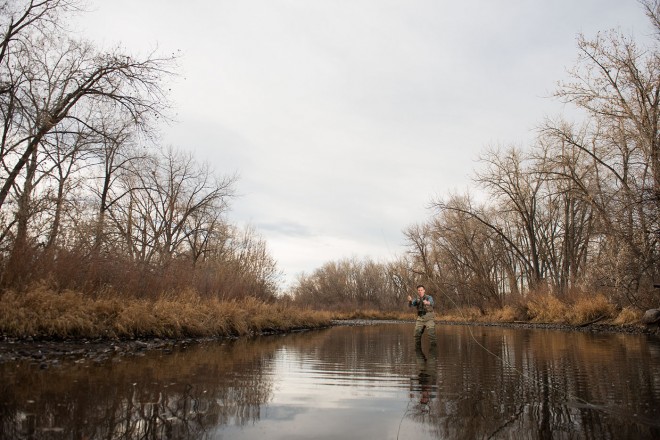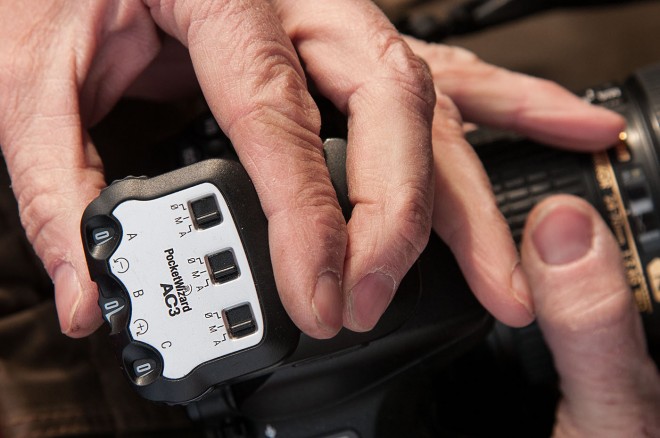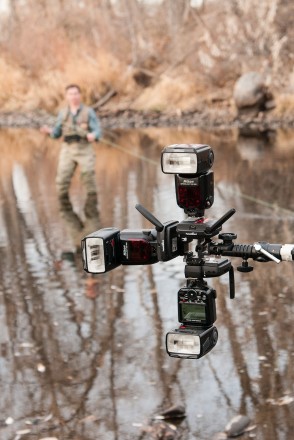 Step Four
At this point I had scared every trout in the river back upstream into the mountains, so Randy was ready to leave. I experimented with different lighting ratios; some shots were subtle fill light, other images I underexposed the daylight 2 stops for more drama. Since Randy wasn't going to catch any fish at this point, I asked him to take off his fly and cast right at me. I wanted to incorporate the green fly line into the image, but didn't want to get hooked in the process. The stark trees gave a nice backdrop to the cloudy scene, but I decided to work this concept even more and try something different. Time for the secret weapon! Out came my 45mm tilt-shift lens.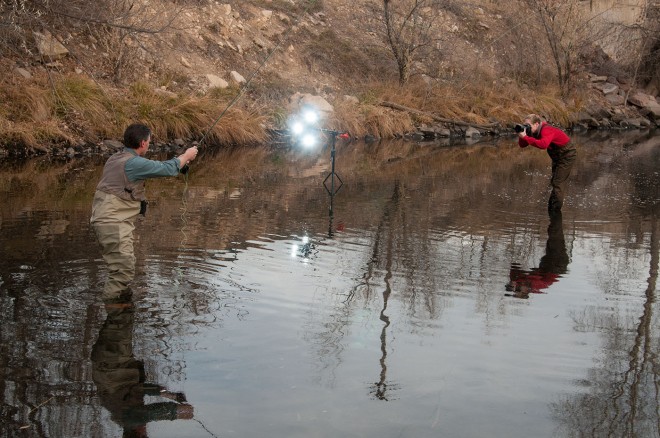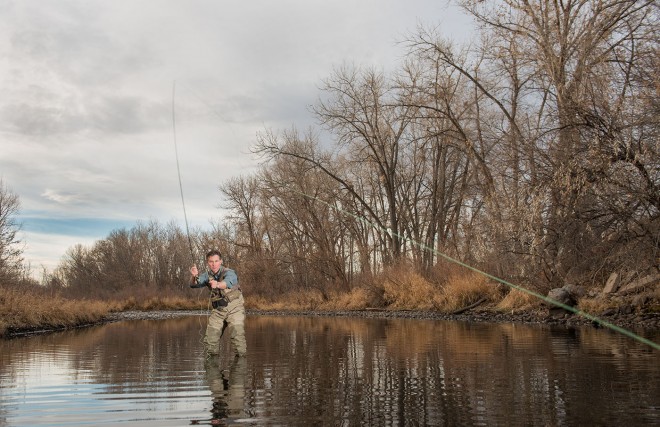 Step Five
For the landscape photographer, a tilt-shift lens offers a way to increase the depth of field in a shot. By tilting the front lens element downward, your depth of field is increased, similar to using a view camera. But I like to do the opposite with my tilt-shift lens. I swing the front element to the left or right, dramatically throwing parts of the scene out of focus and creating a mysterious feel to the image. I was shooting at f/2.8, which presented a new challenge. To get the right exposure, I needed to shoot at 1/500 and faster, requiring high-speed sync. Using high-speed sync dramatically reduces your flash's effective range. But I had three SB-900s firing on the TriFlash bracket, and they were able to illuminate Randy. The recycling time did slow down, but not enough to warrant adding another flash.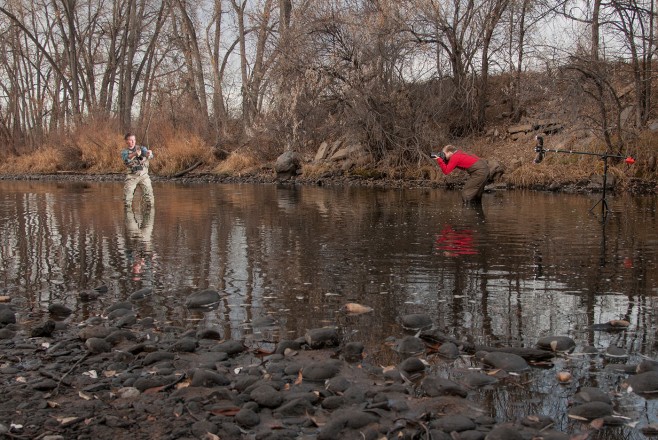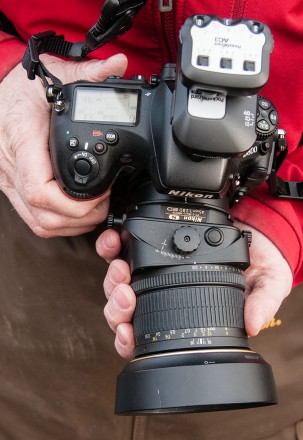 Step Six
The tilt-shift images were looking good. I now had the wintery, lonely fly fishing image I had in mind when we arrived. Randy hadn't even had a bite, but that was due to me splashing around in the river, not his fishing prowess. Since we were working with a moody concept, I decided to see what the scene would look like if I set the white balance to incandescent and added full CTO (color temperature orange) gels to my flashes. The white balance made the sky turn deep blue, while Randy stayed neutral due to the counter-filtration on the flashes. I liked the nongelled shots better; the blue was just too overpowering. At that point Randy and I couldn't feel our frozen feet in the icy water, so like any good fisherman, we decided to retreat to the local pub and tell fish stories. We'd catch trout another day.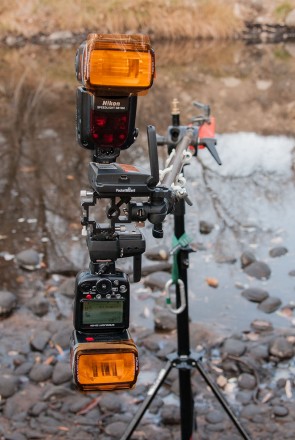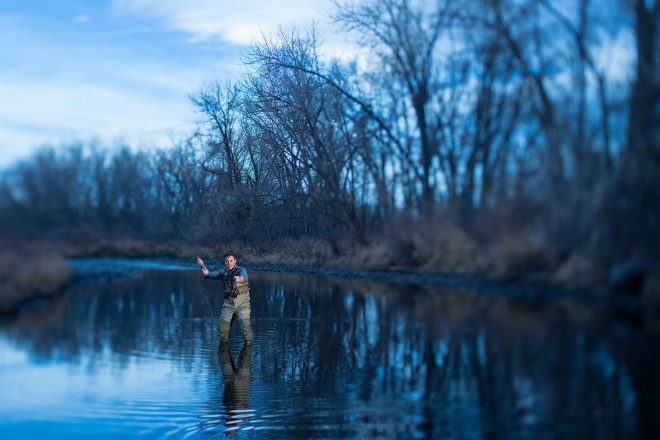 If your scene is not as clean looking as the image above, maybe you need to remove some litter or distracting elements. There are many ways to remove unwanted objects in Photoshop, in this tutorial, Daniel covers using the Clone Stamp, Spot Healing Brush, and Patch tools, plus Content-Aware Fill. See which tool will help you make your next image shine.