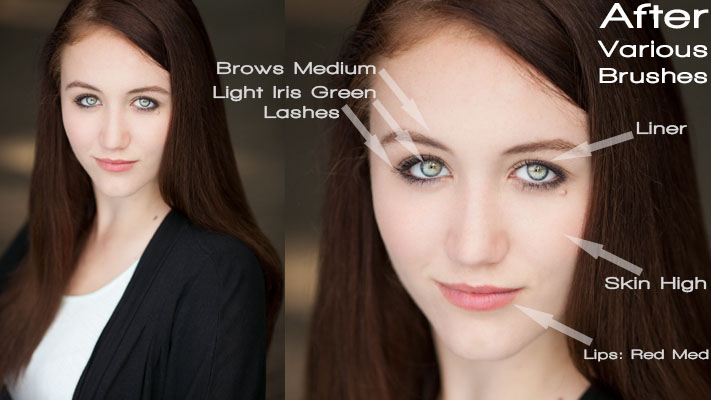 Looking for Lightroom brushes? Check out this deal we have from Kristi Sherk a new KelbyOne instructor.
Krist Sherk is a retoucher, one of the best. She has a saying, "The sign of a good retoucher is no sign at all." Specializing in realistic retouching, Kristi has found herself working for clients such as National Public Radio, American Chemistry Council, XM Satellite Radio, Cotton Incorporated and most recently, Hasselblad. Today she is sharing some of her secrets with you. Head over to Foto Promos website and get this limited time offer on a set of Lightroom brushes. Kristi has put together a MEGA pack of brushes for your Portrait work. For a limited time, this Portrait Adjustment Brush Mega-pack for Lightroom will be 75% OFF!
Keep your eyes open for Kristi's class on KelbyOne. She just recently recorded it, so once we do all our magic, we will share the new class. In the meantime, check out this video of the brushes in action!
Here is one example of how these brushes can help you with realistic retouching:
"These adjustment brushes for LR have definitely improved and quickened my skin retouching. I was able to find favorite brushes that work for different situations/clients and are now my go-to adjustments. The variety of colored options for blushes, lips, eye shadows, etc. gave me great options to match different clients' skin tones and makeup choices. I would definitely recommend these to others." – Erin Kate (
www.ekatephotography.com
)
Editor's Note: This deal is now over, but you can still get more from her such as in this Guest Post on Scott's blog, or here where you can order her products.