Hitachi Travelstar 7K200
Laptop hard drive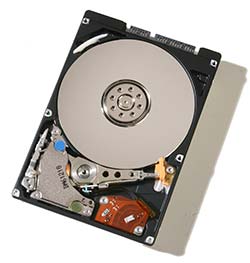 Is your laptop sluggish when opening folders with lots of documents inside? Do video clips stutter when you play them? Are you constantly looking for items you can delete or burn to DVD because you're always running out of space? Then it sounds like you need a new laptop hard drive!
The Hitachi Travelstar 7K200 (model # 0A50940) is a 200-GB, 7200-rpm spindle drive with a 16-MB buffer running on the Serial ATA platform. Originally sold at the Enterprise level to go in large server banks, this 2.5″ drive has developed a strong following among mobile content creators (video editors, animators, DVD authors, etc.) who demand the best performance possible in the smallest size that fits their laptops.
For users with an older and slower 5400-rpm drive in their laptops, you'll easily see a 30–40% increase in performance speed with this drive. Even when compared to other 7200-rpm drives, such as the 160-GB Momentus 7200.2 (the fastest drive Apple currently ships with the MacBook Pro), this Hitachi is still up to 15% faster…and you get 40 GB more storage!
The only downside to the Travelstar 7K200 (and this goes for any newer, faster drive with a high spindle speed) is that it will take more electrical juice to operate at its peak efficiency. This is no big deal if you're connected with an AC cord to a wall outlet but if you're running off a battery, expect it to drain more quickly than you're used to.
All in all, this is the best hard drive in its class and is by far the best laptop drive I've ever owned. I highly recommend it!— Rod Harlan
PRICE: Approximately $210
FROM: Hitachi Global Storage Technologies
PHONE: 800-801-4618
WEB: www.hitachigst.com
FOR: Mac and Windows
RATING: 5
LAYERS VERDICT
HOT Blazingly fast!
NOT