Freeway 5 Pro
WEB-AUTHORING SOFTWARE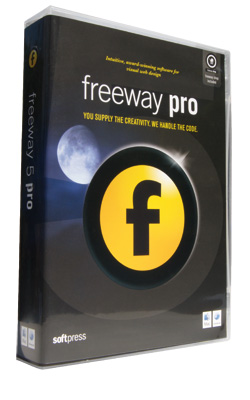 Softpress has come a long way with its release of Freeway 5 Pro. My introduction to their software goes back to the days of Claris Homepage and when GoLive was still a company with a product called CyberStudio. Freeway has always offered graphics-rich authoring and an interface that works well for those used to page-layout applications. This latest version brings some wish-list items on board, as well as enhancements to some favorite features to bring Freeway 5 Pro into today's world of search engine optimization and home-based e-commerce.
One of the major changes in Freeway 5 Pro is the addition of precise CSS control in an otherwise graphical approach, but with little change in the learning curve for Softpress' faithful client base. If you're not familiar with the clean interface, it takes only a few clicks to get your bearings and you'll be on your way. More advanced designers will enjoy how Freeway 5 Pro now supports layered transparency from Photoshop and Illustrator (with overlapping) using anti-alias blending directly in the site layout. It looks great and you can export those images into a huge range of file types. It also supports essentially code-free creation of dynamic effects with actions for fade, pulse, or blind; new blogger templates that can be customized for the individual style; plus sliceable background images and onboard inclusion of actions for Google Maps and AdSense.
Softpress has always offered a huge surplus of design templates, lots of tutorials, and third-party add-ons to further enhance the user experience, and this new version is no exception. Freeway's loyal fan base seems to have the company listening, as is evident by how Softpress added so many features that people were asking for in their user forums and client requests. One example is the new email address encryption that reduces email "spiders" that virtually harvest addresses from webpages and, most likely, end up as spam.
There are two things that some may consider obstacles. First, there's no full source view for hand coding and editing. As a code generator, not a code editor, getting used to this difference doesn't take very long. Second, onboard JavaScript effects allow the use of impressive visual and audio effects within each page. But with today's mobile Web browsing, not every viewer will appreciate these effects, so you might want to either employ some code that recognizes the browser type and platform or simply create additional versions for multiple devices.
One particularly nice addition is the Freeway Shop set of actions to create simple shopping carts and set up your payment processing. Softpress also offers support and pricing with Mal's e-commerce that provides free shopping cart services.
Somewhere between GoLive, iWeb, and Dreamweaver, a little patience and some open-minded thinking can bring your websites into the next generation of the Internet interface design game. Sites can really come to life with beautiful and seamless motion that carries the content without overpowering it. With only a modest learning curve, Softpress plays hardball with a serious Web-authoring application.—Daniel M. East
PRICE: $249 (Upgrades from $99)
FROM: Softpress Systems Limited
WEB: www.softpress.com
RATING: 4
LAYERS VERDICT
HOT Advanced features; great compatibility
NOT No source editing