Epson PowerLite Home Cinema 1080 UB
TAKE YOUR HOME ENTERTAINMENT TO A NEW LEVEL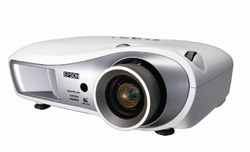 Bigger is better, and the PowerLite Home Cinema 1080 UB from Epson delivers a theater-like experience that really is big. The 1080 UB supports resolutions up to 1080p, claims a 50,000:1 (dynamic) and 4,000:1 (native) contrast ratio, and is rated at 1,600 lumens for a bright picture.
To take advantage of 1080p, we connected a Blu-ray player via HDMI. The ability to manually shift the lens vertically and horizontally, combined with a zoom range of 2.1:1, gave us plenty of flexibility for positioning the projector. We then popped in Speed Racer, and our jaws dropped to the floor—the sharpness and colors where incredible, and the picture jumped off the screen.
Out of the box, however, the picture had a little too much bias toward yellow and green. Fortunately, there are plenty of controls for adjusting the picture. After selecting one of the viewing presets—Dynamic; Living Room; Natural; Theater; or Theater Black 1 and 2 — you can fine-tune everything from brightness and contrast to gamma and individual colors.
Viewing presets are selected based on lighting conditions. With lots of ambient light, your best choice is Dynamic, which delivers a bright picture. The tradeoff is slightly oversaturated and unnatural colors, but just go into your picture controls to fine-tune the image. If you have control over your lighting, then you'll want to go with the Theater settings, which offer a more natural and film-like experience.
The 1080 UB delivered deep blacks and good contrast in the shadow areas, making even dark scenes a pleasure to watch. And finally, the price: Yes, you could buy a 60″ or 70″ LCD TV for around the same price, but you get a much bigger picture from a much smaller unit that delivers an image that's just as good.—Chris Main
PRICE: $2,799.99
FROM: Epson America, Inc.
WEB: www.epson.com
RATING: 4.5
LAYERS VERDICT
HOT Picture quality and contrast
NOT Out-of-the-box calibration