Eos Wireless
IPOD SPEAKERS THAT PACK A LOT OF PUNCH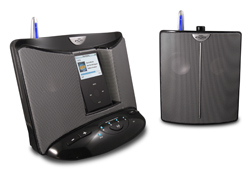 The Eos Wireless core system (available in black or white) ships with a base station transmitter and one satellite speaker. The base station has two built-in tweeters and a ported down-firing subwoofer for 2.1 stereo surround sound, and can support up to four satellite speakers. The unit is very simple to use. Just plug in the unit, dock your iPod (or use the auxiliary audio input for other devices), press play, and pump up the volume. With the help of SRS WOW! sound-enhancement technology, the base unit delivers nice, clean, much-better-than-average sound and bass than you'd expect from an iPod system.
The best part of the system is the satellite speakers. The compact speakers have their own built-in power supply and can be plugged directly into any outlet to hang solidly from the wall. The plug can also be disconnected from the back of the speaker for shelf or countertop placement. The base station automatically locates the speaker almost instantly.
Each satellite speaker is also a self-contained 2.1 stereo system (two tweeters and a ported back-firing subwoofer). The speakers deliver even better sound and bass than the base station. Each speaker has its own independent volume control and delivers plenty of volume before distortion kicks in. We set up four speakers in four different rooms, plus the base station in a fifth room, and it filled the entire house with music. The only problem we encountered was with the speaker in the kitchen; anytime the microwave was in use, the signal to the speaker was completely lost.
Overall, the system is impressive. Keep in mind, however, that depending on the number of speakers you need, it can become quite expensive. A core system with three additional speakers will run you almost $640.—Chris Main
Company: IntelliTouch
Price: Core system: $249.99; Additional speaker: $129.99
Web: www.eoswireless.com
Rating: 4
Hot: Better-than-average sound and bass
Not: Price for speakers adds up quickly