Lighting for Weddings: Destination Wedding Photography Tips
The inspiration for this article came as I watched airline passengers desperately jamming their luggage into the overheads, so I wrote it from 36,000′ in the sky.
I shoot about six or seven destination weddings each year, and while I do enjoy them, it's always a challenge. Often people will comment on how glamorous it is to be jetting off to beautiful places to take pictures. I'll admit it's not the worst job in the world, but if you've ever had to get on an airplane with camera gear, your laptop, some hard drives, Compact­Flash card readers (and all the accompanying wires), not to mention a few pairs of underpants, all without checking any luggage, you know it's not easy. As I complete this flight, I'll have clocked my 28,000th mile for this year, and I'd say I've become quite the expert packer. Packing for a destination wedding is about preparation, knowing exactly what you need, and leaving the rest behind. You can have your cake and eat it too! (Pun intended.)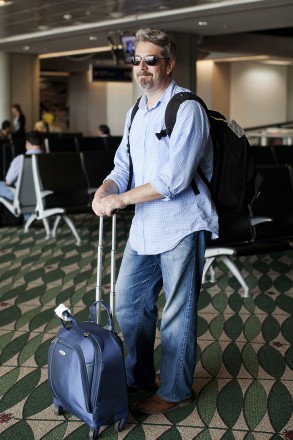 Packing
So how can you get all your favorite gadgets, lighting modifiers, tripods, stands, and flashes into one backpack? You can't. You need to put on your MacGyver cap and think smart. Sure, you could rely entirely on available light, your on-camera flash, and later in the day, high ISOs. So can Uncle Bob with his DSLR. I'm just sayin'.
Though there are a ton of options out there for camera bags, I'm partial to backpacks. I've found that going up and down stairs and escalators, over bumpy sidewalks, and other hazards makes it easier to lug a bag on my back. Backpacks are also more compact (and lighter) because they don't have wheels. The downside is that if a cranky flight attendant makes you check your bag, it doesn't have the protection a roller bag has. Here's what I take with me.
• Two EOS 5D Mark II bodies
• Four batteries (two in camera), and one charger
• 24mm, 50mm, and 85mm L-series lenses
• One Canon Speedlite 580EX II with compact STO-FEN diffuser (not having a backup on-camera flash freaks me out, but I always have my off-camera flashes)
• Two LumoPro LP160s
• One set of RadioPoppers JrX series (one transmitter, two receivers)
• Filters (polarizer, graduated neutral-density [ND] filter)
• CompactFlash cards, reader, and small bus-powered external hard drive for backup
• One small reflector
• Three strips of gaffer tape (a whole roll is too heavy) stuck to the inside of your camera bag—important
• Just enough batteries to make it through the trip. No rechargeable batteries! That requires another charger, and lithium batteries are much lighter. Typically, I put new batteries in my 580EX II and the LP160s. I'll bring four extra AAs just in case, no more.
Leave the light stands, tripods, external battery packs for your flashes, and light modifiers at home.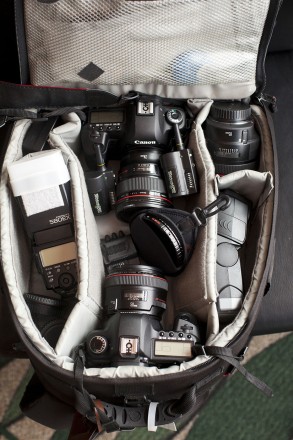 BeachShot#1
Beach shots: Nothing like trekking through the sand with your gear in the searing hot sun. Despite all the planning, why do we always find ourselves shooting at high noon? Here are two ways I do it.
My goal is to have those deep blue skies and waves in the background, and there's no way your on-camera flash alone will give you great results. Neither will one off-camera flash, even at full power, but two will certainly do the trick. So, take two off-camera flashes with a piece of gaffers tape (stuck to the inside of the camera bag) and strap them together. In midday sun, at the lowest ISO, and 1/200, you should be somewhere around f/8–16. That's a ton of light to output, so two off-camera flashes is a must.
I try to avoid shooting with such a small aperture whenever possible, so I've employed a new trick that works well. I'll add either a polarizer or a graduated ND filter. The polarizer will help to bring out the skies, and cut light coming into the lens. The graduated ND filter allows me to cut from 2–7 stops. Just to be clear, it's one or the other, and honestly I've had mixed results with the ND filter. If you stop down too far, it's really hard to focus and results in soft images.
Step One
Establish exposure and, if at all possible, try to backlight your subjects. Midday is tough and you might need to move your subjects around, but try to keep direct sunlight off their faces. I find my exposure by going into Tv mode because I'm limited to 1/200 to 1/250 with a manual off-camera flash. It's kind of like filling in the blanks. I know I'll be at my lowest ISO, 1/200, and I need to know what my f-stop will be. Tv mode is a quick way to do it. Once I find exposure, I lock it into Manual for consistent exposures.
Step Two
Add off-camera flash. Again, with midday light you'll generally need both of your off-camera flashes firing at full power. Distance is usually around 7–15′, and I'll "chimp" it out to find that distance. Of course, it's not easy trying to look at the back of the LCD screen with the sun directly overheard. You could look at the histogram, but does anyone really know how to read those things? My best tip with a shot like this is to overpower the sun without making it look too flashy. If you use too much flash, the light will look artificial. In my humble opinion, too flashy in a natural beach setting is distracting and not the look I'm going for.
Beach Shot#2
Using direct, unmodified flash on your subjects will always look a little flashy. In the best-case scenario, for beach shots like this, we'd reach for a beauty dish or softbox; unfortunately, we don't have one. MacGyver to the rescue. Believe it or not, your reflector makes a great softbox!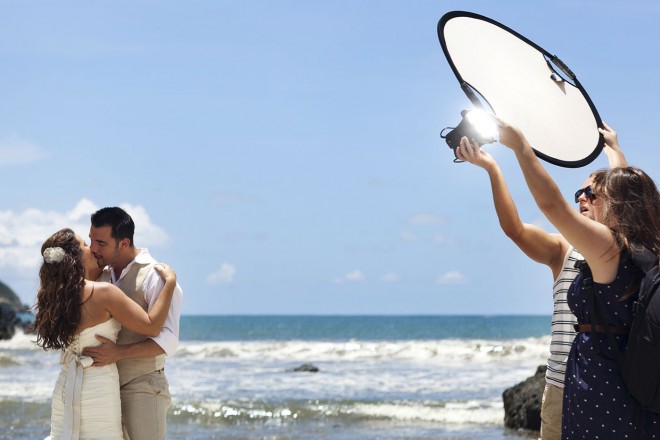 Step Three
You'll need two assistants, but I find there's always someone from the bridal party available, and they make for cheap help. Instead of directing the flash at your subjects, bounce it into your reflector and angle it at them. Find your exposure by having your voice-activated light stands (VALS) move in and out. The farther the off-camera flashes are from the reflector, the softer it will be, but it also cuts your power output.
Ugh, are They Really Going to Jump in the Pool?
Yep. After three or four Bahama Mamas and several tequila shots, someone has the bright idea of jumping into the pool. You could just use your on-camera flash, but that's no fun, right? For these shots, I laid two LP160s at 1/16 power on a lounge chair, and the other on a brick wall aimed at the middle of the pool, plus I used my on-camera flash. I wanted to use as much available light as possible, and a high ISO to ensure quick recycle times.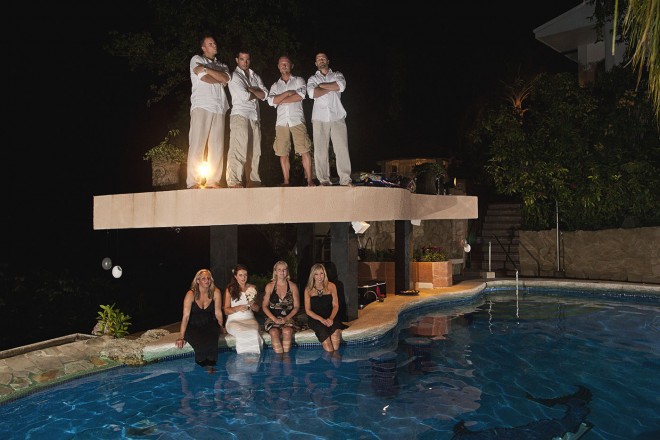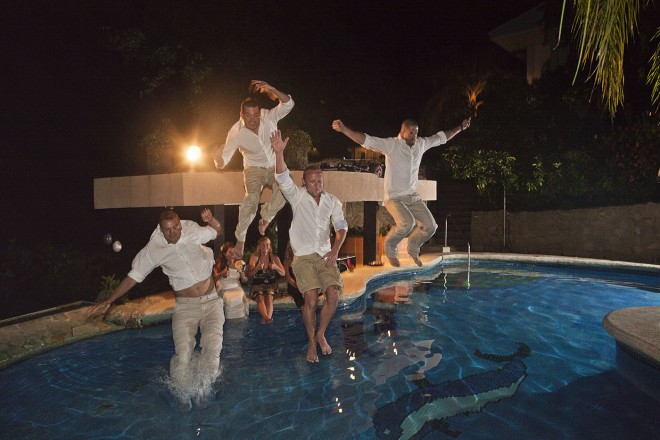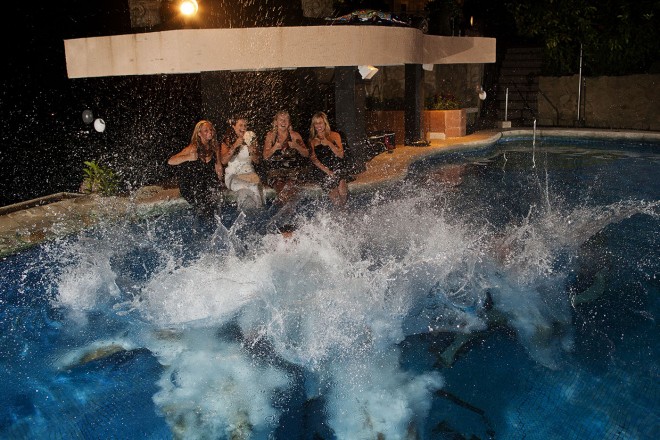 Shooting destination weddings can be a ton of fun, and with a little preparation you can have a stress-free trip, without breaking your back, and do some awesome lighting. Last tip: At all costs, avoid getting roped into tequila shots with the bridal party at the end of the night. I can tell you firsthand that hangovers and plane flights aren't glamorous. Just say no!
For more on weddings, we have some great courses on KelbyOne by Cliff Mautner on Weddings. Here is a free tutorial from PlanetPhotoshop for creating Beautiful, Moody Light.