Cinema 4D R10
Comprehensive update to 3D animation software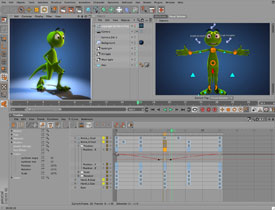 From the local news on television to full-length animated features on the big screen, CINEMA 4D has been there. For the most part, it has steadily been a quiet workhorse that had a tendency to get lost in the shadow of its peers. With this newest release, that will likely change substantially. Although every side of CINEMA 4D R10 has seen great improvement, the biggest changes can be seen in the refreshed interface, addition of Enhanced OpenGL, and the inclusion of BodyPaint 3D R3 as a standard module.
On the surface is a newly designed interface that consists of high-contrast, color-coded tool groups that will get newcomers up and running while still offering enough familiarity for the seasoned user to feel at home. The addition of handles for collapsing and expanding manager windows, as well as the Command Manager for searching through keyboard shortcuts or dragging-and-dropping tool icons, makes customizing the desktop fluid and effortless.
Working with objects in previous releases was sometimes tedious, but with the new Layer Browser you can hide or select objects with ease; or open an additional Object Manager to work with specific objects as you choose. Basically, you now have the ability to focus on specific sections without the rest of the composition getting in the way.
This wonderful new system of object selection has been incorporated within the Timeline as well, where there's also a new item: the PowerSlider. With the PowerSlider, an object's keyframes can be moved, added, or subtracted without having to search for it on a fully extended Timeline. The other great feature about the new Timeline is the ability to have more than one Timeline window. Characters can be separated to their own Timeline or maybe just have one open for the F-curves.
Release 10 also supports Enhanced OpenGL. Although it's only recommended for more powerful graphics cards, Enhanced OpenGL makes it possible to have all textures, bump maps, and lighting rendered in the Editor window almost as accurately as the final rendered project. This really saves time when it comes to tweaking environments for realism. But if 95% accuracy in the Editor window is not enough, then try the new Interactive Render Region. A quick Option-R (PC: Alt-R) will open a resizable window within the Editor that will fully render the specified area with live updates.
CINEMA 4D is a powerful foundation for 3D animation; however, MAXON includes the ability to add more power and control through the addition of modules (plug-ins) that are sold separately. One of the most popular modules, BodyPaint 3D, has also seen an upgrade and now comes standard with all editions of CINEMA 4D. It now has the ability to use up to 32-bit color depth, HDR, and EXR. There's no better tool for working with texture control.
Release 10 was made for jumping straight in and getting you there faster than ever with its improvement on workflow. MAXON made certain of this by including a full DVD of tutorials. There's also a complete website for assistance, located at www.cineversity.com, offering a limited free membership and a paid full membership that costs $295, then $95 a year after that. Overall, this comprehensive update will be a solid addition to anyone's toolkit without being a solid subtraction to the wallet.— Jason Scrivner
PRICE: $895
FROM: MAXON Computer GmbH
PHONE: 877-264-6283
WEB: www.maxon.net
FOR: Mac and Windows
RATING: 4.5
LAYERS VERDICT
HOT Blazing fast speed; BodyPaint 3D
NOT Additional modules can get expensive