Carrara 7 Pro
3D SOFTWARE FOR MODELING, TEXTURING, ANIMATION, AND RENDERING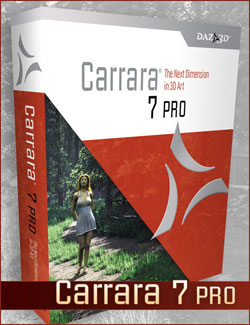 Carrara created a name for itself by being an affordable, versatile 3D application that includes modeling, animating, rigging, terrain building, and rendering features. Carrara 7, available in Express, Standard, and Pro (which we're reviewing here) editions for both Mac and Windows, offers entry-level and advanced users a cost-effective alternative to what can be a very expensive arena to break into.
I've been reviewing Carrara for quite a few versions now and have to admit that the new version has some much anticipated (and welcome) features. Carrara 7 Pro steps up the game with the addition of 3D Paint, Multi-pass Rendering, improved content support, UV editing/unfolding, and a COLLADA export function for Windows, making it more robust than ever before. This software package still has its familiar and easy-to-use interface, providing a professional toolset that will have you creating amazing 3D work in no time. I reviewed the new features materials and was creating scenes in no time with the models, scenes, and textures that were included in the software. (Sorry folks, the extras are only in the Pro version.) So let's take a look at some of those new features.
Let's begin with the four main workflow tasks: Modeling, Texturing, Animation, and Rendering. Initially, you open the project on the Assembly Room where you put the scene together. You can quickly switch between these tasks to speed up workflow and to better visualize the final output.
In this version, 3D Paint is a key new feature, which can be accessed from the Assembly Room. It allows textures to be selected, edited, and painted onto an object, as well as giving access to various channels and shading domains (RGB, RGBA, etc.). This tool gives you four standard ways of applying paint to your object: the default paintbrush, an airbrush, an image stamper, and the line tool.
Another new feature is Multi-pass Rendering, which allows you to render the image out as multiple shader layers saved as separate image files. This offers several benefits, one of which is that it increases productivity: Artists can render out a scene and perform postproduction work on individual layers, rather than having to make changes to the scene and render the whole thing out again.
Here's another new feature that I really like. You can now import DAZ-format content without having to go through the hassle of plug-ins or workarounds! This means that you can perform DAZ Studio or Poser tasks and have the modeling, rendering, and animation features of Carrara all in one place.
Included in the Pro version is a fair number of models, scenes, and extras that are well worth the upgrade. In the Standard and Pro versions, the UV Editor has been expanded so you can edit UVs in the main viewport and you can relax UV seams when in the editor. The Pro version also gives you the ability to unfold UV maps.
Overall, Carrara 7 has a lot going for it as an entry-level 3D application. The new features definitely make this a worthwhile upgrade, as the 3D Paint, rendering options, and content support (to name a few) give it a lift from previous versions. Its low price and learning curve make it a great solution for students and amateur designers; however, its robust features makes it ideal for the professional crowd as well.—Bruce Bicknell
Company: DAZ Productions, Inc.
Price: $549 (Upgrade $349.95)
Web: www.daz3d.com
Rating: 4.5
Hot: 3D Paint; Multi-Pass Rendering; modeling/UV enhancements
Not: Toolset can be confusing; render times slower than expected