Canon XH A1
PROFESSIONAL HIGH-QUALITY HD CAMCORDER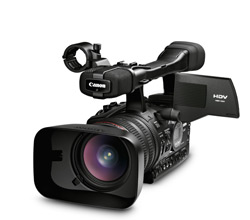 Canon's reputation for outstanding image quality carries over throughout their product lines and, in this high-definition world that allows us to create everything from Blu-ray to YouTube videos, getting serious about camcorders is becoming more mainstream. The XH A1 high-definition camcorder has so much going for it that all of the other manufacturers will have to sit up and take notice, again.
In this class of video equipment, the XH A1 is relatively lightweight at just over 4 lbs, but there are so many features for this size. You can shoot with almost zero effort in fully automatic mode or explore the huge range of functions including HD SDI, time code, and 60i/50i modes, as well as both miniDV and 16:9 HD aspect ratios. Lens and overall image quality are very high, especially at this price, and Canon has included two built-in neutral-density filters (1/6 and 1/32) for nearly any shooting environment.
For all of its impressive video, the only bump in the road was in the audio levels. The XLR input was always a bit hot, even with the basic attenuation on-board, but the built-in microphones distorted beyond around 102 dB, with poor frequency response between 180 and 320 Hz (depending on proximity to the audio source).
As impressive as its features are, the XH A1 is surprisingly easy to operate. This is a great choice for broadcasting applications for users ranging from professionals to film students. Overall, this is an incredible value for a video camcorder that produces impressive results and outperforms some other brands charging more than twice the price.—Daniel M. East
PRICE: $3,999
FROM: Canon U.S.A., Inc.
WEB: www.usa.canon.com
RATING: 4.5
LAYERS VERDICT
HOT Stunning image and lens quality; lightweight; value
NOT Distorted audio at higher SPLs from onboard mics