Axiotron Modbook
TABLET MAC FOR ARTISTS ONLY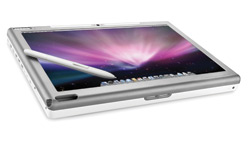 With Apple's blessing, Axiotron Corp. made modifications to a standard Apple MacBook laptop to produce a tablet with a screen that's sensitive to a Wacom stylus—similar to a Wacom Cintiq. Called the Modbook, it's the only Mac-based slate on the market and it's designed for artists and photographers.
The Modbook doesn't have a keyboard so if you buy it with the idea of using it as a standard laptop computer, you might be disappointed. The tablet we tested came with Mac OS X 10.5 Leopard, a 2.2-GHz Intel Core 2 Duo processor, and 4 GB of RAM. Its input/output panel is identical to an Apple MacBook—USB, FireWire, Ethernet, Bluetooth, and Airport connectivity—and it also includes iSight and a Global Positioning System.
The Modbook design is unique: besides having no keyboard, there's no cover. Its 13″ LCD screen, with a native resolution of 1280×800, is always exposed. It is protected by a scratch-resistant plate of nonreflective matte glass that Axiotron calls ForceGlass, which is sensitive to the stylus. The screen is framed by scratch-resistant magnesium. The stylus, housed in a pocket built into the right corner of the frame, has two programmable buttons and a digital eraser at the top, and the Modbook ships with an extra stylus and tips. The tablet is slightly thicker than its MacBook counterpart and, at 5.5 lbs, weighs 0.5 lbs more. Axiotron deserves high marks for the Modbook's solid feel and rugged construction; for some, however, the weight might be an issue. With continuous use, the Modbook's rechargeable lithium battery is good for an average of 2.5 hours.
The Modbook elevates the experience of working in graphics programs such as Photoshop by bringing users physically closer to their work, allowing a more intimate relationship with their images. It's similar to drawing on paper and it's seductive. The stylus has 512 levels of sensitivity (by comparison, the Wacom Intuos has 1024) and the screen reacts accurately and instantaneously. Draw with light or heavy pressure and the screen quickly complies with the right shade of opacity. Create accurate thin, thick, straight, or curvy lines and the Modbook keeps up with you. I did notice that over time the pen and cursor don't correspond accurately, especially at the screen's edges; however, there's a utility that will reset the stylus to correct this behavior.
The tablet might be disappointing to some, however. Its screen size of 13″ probably isn't big enough for graphic artists used to a larger workspace, and although the screen is sharp and clear, it has a narrow angle of view, with brightness and colors dropping off as you tilt your head. The corners vignette if you don't hold the Modbook in exactly the right position and the screen washes out in bright, outdoor light. Then there's the lack of a built-in keyboard. You can connect a USB or Bluetooth keyboard, but that's an awkward setup. For typing, Axiotron includes Quickclicks, a virtual onscreen floating keyboard for tapping out commands with the stylus. Quickclicks is programmed for easy accessibility by pressing on the stylus toggle switch. It has several setup options and, between scrolling menus and pecking on the Quickclick's keyboard, it's workable…but certainly not if you're going to do a lot of writing. Using Ink, Mac OS X's handwriting recognition program, adds little to help the situation.
I repeat: Don't buy the Modbook for general computer use; it's designed for graphic artists.
—Steve Baczewski
PRICE: Starts at $2,290
FROM: Axiotron Corp.
WEB: www.axiotron.com
RATING: 3.5
LAYERS VERDICT
HOT A visceral way to work for artists
NOT No keyboard