PRESSURE-SENSITIVE PEN AND 12×9″ TABLET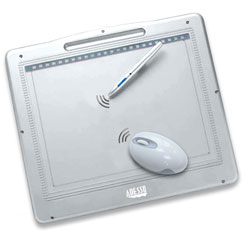 Like a guy who married his high school sweetheart, I began using my Wacom tablet years ago and never strayed. But now in my 40s, my roving eyes were drawn recently to the CyberTablet 12000 from Adesso, Inc. With a slight twinge of guilt (sorry, Wacom), I plugged the 12×9″ CyberTablet into one my MacBook's USB ports, installed the drivers, and started up Photoshop.
Within minutes I was sketching and not giving a thought to my Wacom tablet gathering dust in the corner…until I made a mistake, flipped the pen over, and tried to erase. Just like the Wacom pen, the CyberTablet pen sports a faux eraser but alas, on the CyberTablet, it's just decorative. Soon, I noticed some other limitations: You can't link the function keys (on the included mouse, pen, and tablet) to Photoshop tools; the bundled software (e.g., a note-taking program) works only on Windows PCs; and the tablet only offers 512 levels of pressure-sensitivity (the Wacom has 1,024).
So why buy a CyberTablet? I can't give you a good answer except that the same size Wacom Intuos lists for $449.95. Since I only use the tablet to draw in Photoshop and Illustrator, it suits my needs—though I do miss the eraser. (I'll put the leftover cash toward that fast sports car I've been eyeing.)—Dave Huss
PRICE: $169.99
FROM: Adesso, Inc.
WEB: www.adesso.com
RATING: 3.5
LAYERS VERDICT
HOT Can't beat the price!
NOT No eraser; only basic features