Acrobat 8 Professional
Collaborate and share data using Adobe PDFs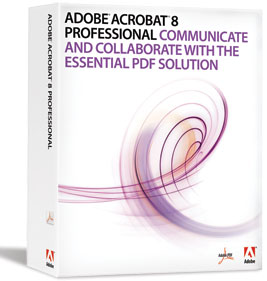 The first thing one notices about the new Adobe Acrobat 8 Professional is the changed interface, which seems cleaner than versions 6 or 7. One nice new feature is the ability to customize Toolbars, only showing the tools you use most often, whereas before, it was an all-or-nothing approach to Toolbars.
[Note: In this review, I'll focus mainly on the graphics-related features and not the strictly business-related ones and I'll assume that you have some familiarity with the features in Acrobat 7.]
Major new features
Some new features that caught my attention include the following:
If you have the Adobe Creative Suite and use Bridge to synchronize your color settings, Acrobat is now included in the sync. Also, transparency flattener settings are now shared with other Creative Suite programs.
Acrobat has had Preflight for a few versions now, but repairs had to be run separately. Now, "fixes" can be set to run automatically when preflighting. Acrobat 8 doesn't appear to have any major new editing features, but simple edits can be applied directly to individual images in Acrobat, including cropping and color-mode change.
In the past, cropping pages only hid the cropped area, but didn't remove any data. A new feature lets you remove hidden content under the Examine Document menu. This doesn't reset the page size, but it does remove all data outside the crop box. Items that overlap into the hidden area aren't sliced, but are retained.
With Acrobat 8, you can now do booklet printing. If you have a duplex printer, this is really handy when printing out those all-too-common PDF-only manuals. The Multiple Pages Per Sheet option is useful too.
You can now create presets for Headers & Footers and Watermark and Background. And you can edit and remove them easily (it wasn't easy in past versions).
Acrobat, with its free Reader, will include Acrobat Connect. If you've ever attended a "webinar" (Web-based seminar), you probably have an idea what Acrobat Connect does. Compared to other services, this has some advantages including: Start Meeting from Reader; competitive pricing starting at $39 per month; allowing up to 15 persons in the meeting; and full support for Mac or Windows.
The PDF forms feature is one of the most improved areas of Acrobat, allowing Acrobat 8 Professional users to Enable Usage Rights in Adobe Reader—this permits commenting as well as allowing Reader users to save form data. Distributing, tracking, and collecting form data have also been improved. Form Field Recognition, another new feature, can look at a form layout created in another program (such as InDesign) and automatically create form fields. On the few tests I ran, it did a nice job, although the forms needed some cleanup.
In addition, multiple files can be made into packages (not the same as converting all files to PDF), which could be handy for transmitting native files with a PDF, or for archive purposes.
There are also a few minor improvements to Acrobat 8 Professional worth mentioning, such as: The Help file is now viewed with the Adobe Help Viewer; you can create a blank page directly in Acrobat; and shared reviews can be performed directly in Acrobat (including Reader).
One other new feature that may be useful for documents of a sensitive nature are the Redaction tools, which allow users to black out text and images in a PDF file and the underlying data is permanently removed from the PDF.
Be aware that the Mac version requires Mac OS X 10.4.3, but it's a Universal install, supporting both PPC and Intel chips. Also, Acrobat 8 is available only in a Professional version for the Mac; no Standard version is offered.–David Creamer
PRICE: $449 (Upgrade $159)
FROM: Adobe Systems Incorporated
PHONE: 800-833-6687
WEB: www.adobe.com
FOR: Mac and Windows
RATING: 4.5
LAYERS VERDICT
HOT Mac Universal install; improved form features
NOT Mac version missing LiveCycle Designer and some PDFMaker features