20 Must Have Shots for Wedding Photographers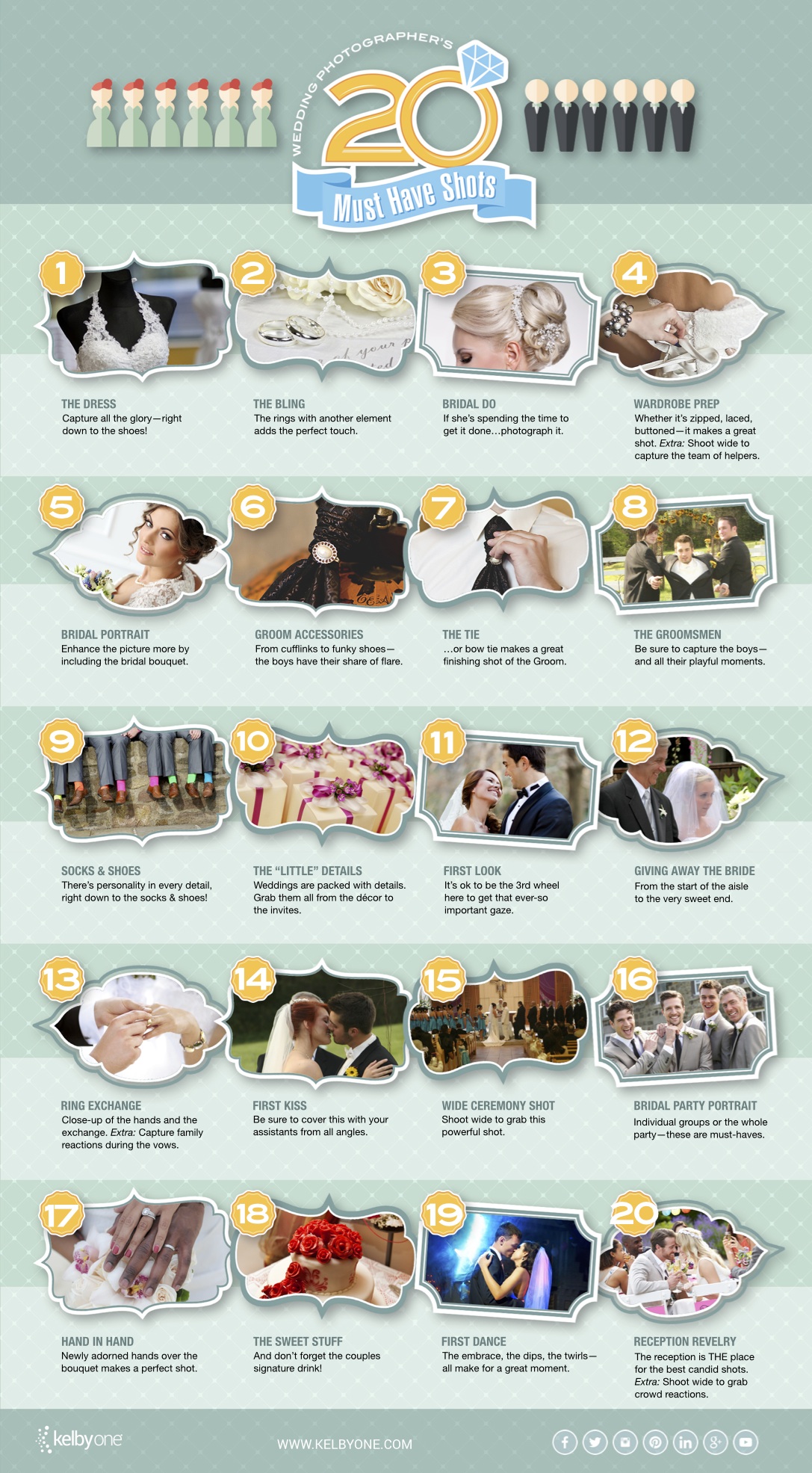 As Photographers, it's our job to make sure we help capture the BIG DAY in all its essence. So newlyweds, family and friends can enjoy memories for years to come.
Check out this helpful article, featuring a FREE downloadable info graphic of 20 Must-Have Shots for Wedding Photographers!

1. The Dress
Capture all the glory – right down to the shoes!
2. The Bling
The rings with another element adds the perfect touch
3. Bridal 'do
If she's spending the time to get it done… photograph it.
4. Wardrobe Prep
Whether it's zipped, laced, buttoned – it makes a great shot.
Extra: Shoot wide to capture the team of helpers
5. Bridal Portrait
Enhance the picture more by including the bridal bouquet
6. Groom Accessories
From cufflinks to funky shoes – the boys have their share of flare
7. The Tie
…or bow tie makes a great finishing shot if the Groom
8. The Groomsmen
Be sure to capture the boys – and all their playful moments
9. Socks & Shoes
There's personality in every detail, right down to the socks & shoes!
10. The "Little" Details
Weddings are packed with details. Grab them all from the décor to the invites.
11. First Look
It's ok to be the 3rd wheel here to get that ever-so important gaze
12. Giving Away the Bride
From the start of the aisle to the very sweet end
13. Ring Exchange
Close-up of the hands and the exchange
Extra: Capture family reactions during the vows
14. First Kiss
Be sure to cover this with your assistants from all angles
15. Wide Ceremony Shot
Shoot wide to grab this powerful shot
16. Bridal Party Portrait
Individual groups or the whole party – these are must-haves
17. Hand in Hand
Newly adorned hands over the bouquet makes a perfect shot
18. The Sweet Stuff
And don't forget the couples signature drink!
19. First Dance
The embrace, the dips, the twirls – all make for a great moment
20. Reception Revelry
The reception is THE place for the best candid shots
Extra: Shoot wide to grab crowd reactions
For more on how to build your wedding photography business, take a look here.