VisionLab Studio
Hundreds of easy-to-use visual effects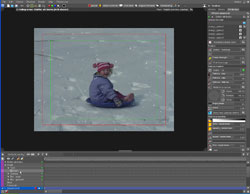 VisionLab Studio by FXhome Limited is a powerful special effects tool for video editors. The creators of VisionLab Studio refer to it as "the all-in-one professional postproduction toolkit" and that description is pretty accurate. VisionLab Studio combines FXhome's CompositeLab and EffectsLab products into one software suite and adds a commercial license.
This software is an incredible bargain and may be one of the best $500 investments a video editor can make. VisionLab Studio supports SD and HD, basic and advanced compositing with alpha masking, garbage mattes, and color correction. It includes a particle generator that can create rain, smoke, fire, and more. Some of the effects included are lens flares, muzzle flashes, and neon light. And just when you think it can't get any better, VisionLab Studio also includes an extensive list of filters covering everything from Bleach Bypass to Day for Night and Oil Painting to Sepia.
If the included effects, filters, and presets aren't enough, you can download additional presets from an enormous online preset library that's continually growing—it seems as if VisionLab Studio loyal users are uploading new presets on a regular basis. This online preset library allows users to sort filters by presets that are newest or most downloaded, for example. The presets are also rated by other users, helping to distinguish which are worth your time.
VisionLab Studio delivers, whether you need to add environmental effects or light sabers for your own science fiction saga. It's a robust tool, easy to use, and provides high-quality results. VisionLab Studio would make a valuable addition to any video editor's digital toolbox: I highly recommend it.—David Singer
PRICE: $499.99 (download only)
FROM: FXhome Limited
EMAIL: team@fxhome.com
WEB: www.fxhome.com
FOR: Mac and Windows
RATING: 5
LAYERS VERDICT
HOT Incredible software at an incredible price
NOT