Toshiba TDP-T100U
Compact and Bright DLP projector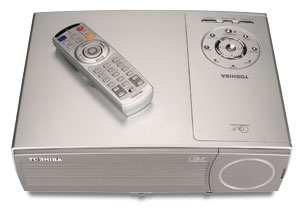 There are so many that it's hard to sift through all of the projectors on the market today, and finding the most appropriate one for your specific needs is really key. The Toshiba TDP-T100U is an extremely compact and lightweight DLP projector that has many quality features, including 2,700 lumens (very bright for this size), a 1024×768 native resolution, and a contrast ratio of 2000:1.
What you may notice right away is that this model is, in effect, plug'n'play in that it detects the video input source and projects it immediately. While the TDP-T100U looks like any other projector, the less obvious differences really add value to the good-quality image it projects. Using standard-size AA batteries, the comparatively small and simple remote features a laser pointer, full controls, and navigation. But there's so much more: It's also a presentation remote that can control slide changes in PowerPoint or Keynote, adjust the image, control Picture-in-Picture functions, and more.
Supporting S-Video, RGB, NTSC, PAL, SECAM, HDTV/DTV, and compatibility from 480p to 1080i, you can plug in nearly any video output connector and enjoy very good results. Some analog input sources may appear slightly pixelated, but it's not enough to be an annoyance.
Of course, the real test is the image quality, and color, contrast, and sharpness are all above most models tested in this price range. In fact, the TDP-T100U goes well beyond what most brands offer in a sub-$2,000 projector. In most cases, you would have to spend almost twice as much for this resolution, functionality, and feature-rich design. —DANIEL M. EAST
PRICE: $1,499
FROM: Toshiba
PHONE: 800-316-0920
WEB: www.toshibadirect.com
RATING: 5
LAYERS VERDICT
HOT High-quality image; color balance/saturation
NOT