Three Designers and Their Dirty Little Secrets
Here a designer, there a designer, everywhere a designer. It seems like everybody's a designer these days, and why not? With the Adobe powerhouse churning out amazing software titles, making previously impossible feats of artistic magic achievable, coupled with the sheer volume of freely accessible how-to articles on the Internet, why wouldn't you choose to sit perched happily in front of your computer playing artist? But doesn't it take something special to become a real success in such a saturated career field? You bet it does. I fished the pond and landed three of the best in the industries of print, Web, and video to find out. I asked them what tools they use, how they got started, where they got their training, where they go for inspiration, and what jewels of wisdom they'd like to pass on to you, our readers. In the next several pages these designers will share their work and where they think their respective industries are headed in the next five years.
The Broadcast Designer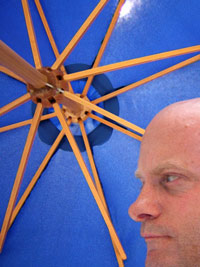 In high school, Christopher Dominici drew caricatures of his teachers and his friends. He also played piano by ear and wanted a formal music education, but his father wanted him to be an engineer. So he compromised and went to art school, bought a synthesizer, and joined a rock band. The band never made it, but he did get a BFA in Graphic Design.
Later, in his twenties, Dominici was a print designer by day and a musician by night. Then a friend, a sound engineer at a local TV station, asked if he could compose a music package for their news programming. That's when he bought his first Mac. The TV station soon hired him as a writer/producer/designer.
Since then, he's been a broadcast designer, a TV promotion writer/producer, a design director, and a creative director at various TV stations and cable networks. Now, he owns his own company, Potomac Motion in Poolesville, Maryland, and provides motion graphics and broadcast design to corporations, broadcast and postproduction facilities, and government agencies.
Staying alive
To keep his music fix alive, Dominici composes original music for a project or two and plays keyboards and low Irish whistle at church on the weekends.
He likes to stay on top of new developments in the industry and likes to play with new applications. "Of course, I try to keep up with the latest software and plug-ins. My best advice to any designer is to try to avoid using any plug-in or software 'out of the box,' but to allow some playtime with your new toy and come up with alternate uses of the product. Some of my best motion graphics have come about when I've hit the wrong key while designing."
When I asked Dominici what was the one thing that had the most impact on his career, he responded, "After Effects, without a doubt. When I first used version 4 in 1998, I was elated because here was a program that essentially gave me a timeline and editing capability for Photoshop. I could now edit keyframes (just as I had edited MIDI data the previous ten years) and create motion graphics in much the same way that I create music."
When asked about the future of video, Dominici answered, "In five years, I expect full-resolution, uncompressed, high-definition video on digital (tapeless) cameras and decks to be the norm. Also, I suspect that the quality of motion graphics will improve exponentially throughout the industry. I can't wait to see what the best designers will be capable of producing in the not-so-distant future."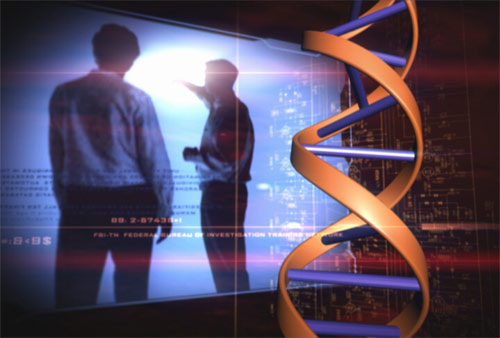 FBITN Presents video open
PHOTO CREDIT: ©2005 FBI TRAINING NETWORK
The Video: FBITN Presents training video open
The Inspiration: The FBI had a training unit that needed a makeover of their logo and their video training materials. This is a program open that Dominici designed, live-action shot, and created in Adobe After Effects. "I had the luxury of choosing the music track for this open (I try to negotiate this option on most jobs), so I can say it was the track that inspired the look and frenetic pace of the animation."
The Process: "This is the kind of job that, in my recent past, would have taken hundreds of thousands of dollars worth of broadcast hardware and a full creative team to pull off. Now, I can create and execute a piece like this in less than a week with less than $20,000 worth of hardware/software," according to Dominici. To achieve the final product, he used a Sony HDR-HC1 video camera (www.sony.com); Adobe After Effects, Adobe Photoshop, and Adobe Illustrator (www.adobe.com) on a Power Mac G5 and a PowerBook G4 (www.apple.com); and the following plug-ins: Aurora Sky (www.digitalanarchy.com), Power Picker (www.fnordware.com), Knoll Light Factory (www.redgiantsoftware.com), ReelSmart Motion Blur (www.revisionfx.com), and Shine (www.trapcode.com).
[To view samples of Dominici's video opens, visit www.layersmagazine.com/magazine/downloads.—Ed.]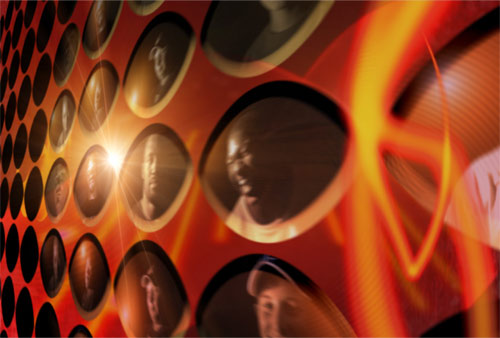 Redskins Gen'R'ation program open
PHOTO CREDIT: ©2005 THE WASHINGTON REDSKINS
The Video: Redskins Gen'R'ation program open
The Inspiration: The Washington Redskins were in need of a Saturday morning kids' show program open. Unfortunately for Dominici, he was asked to use existing footage of players and kids shot in a dark studio with one light source. "I felt that the footage was inappropriate (from a design standpoint) for a fun, lighthearted kids' show," he said. So, he grabbed stills from the footage and created a virtual world of team colors and football icons. The footage limitation led to this final design that was a hit with the client.

The Process: For this project Dominici used a Power Mac G5, a PowerBook G4, Adobe After Effects, Adobe Photoshop, Adobe Illustrator, Apple Motion, and the following plug-ins: Power Picker, Knoll Light Factory, ReelSmart Motion Blur, and Trapcode's Particular.
Top 10 things Dominici can't design without:
1. My eyes
2. My ears
3. Nature
4. A grid
5. Music
6. Typography
7. Single Malt Scotch
8. My cameras
9. My Macs
10. After Effects
The Illustrator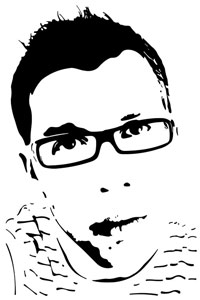 The son of a cartoonist, William Evans (http://wevans.co.uk) was exposed to art and creativity very early on. After finishing grade school, he enrolled in The Arts Institute of Bournemouth in England, where he studied graphic design, illustration, and multimedia. While there, Evans seized each and every opportunity to work in his field of choice, and did time in the trenches at various advertising agencies.
Struggling to find work after finishing college as many bright young designers do, Evans decided to take the digital television and Web career path with Teletext (www.teletext.com). It was during this time that he was bitten by the illustration bug. Thus, in his spare time he created illustrations for sale on iStockphoto.com (www.istockphoto.com/onion). Through the resulting connections, he started branching out and taking on freelance work. This not only boosted Evans' confidence, but it began opening doors of opportunity for him. A few years and a few doors later, he joined the Electronic Arts team (www.ea.com) as a motion graphics designer, where his previous experiences and projects come into play each and every day.
The art
These days, Evans is not resting on his British laurels; he believes it's vital to create illustrations every single day, either for clients or for himself. With his eye on the future, he creates the type of artwork he wants to be hired to do. "It sounds strange but I always act out a brief in my head before I do anything," he said. "Some of the work you do can be of little interest, and this helps in these cases and gives you a starting point." Evans views each image as a journey. "You never know what you'll have as the finished product," he reflected. "I keep going through the process until I'm happy and my client is happy with my work."
For inspiration, Evans suggests investing in shelves and shelves of books, and to be mindful of what you see in magazines and on the Web. "These will give you the latest trends and new concepts to try out," he advised. He also sings the praises of having a sketchbook and camera with you whenever possible. "I find that every time I leave the house there is always something to get inspiration from; whether it's from people watching, objects, city life, or ads that catch my eye," said Evans thoughtfully.
Designing the future
I asked Evans where he thought the print industry is headed, and what type of changes he sees on the road ahead in the next five years. "It's always very difficult to answer this kind of question," he said. "I feel that in the last few years there has been more focus on photographic imagery that's been manipulated in different ways to create an illustration. Though recently, and in the future, I can see Illustration getting more credit and exposure." Evans was quick to add that this means added pressure on designers and artists to perform at higher levels.
"I would say that the most recent style trend has been for very clean and slick designs," Evans stated. "Clients now want designs that look more hand drawn and authentic." Of course, Evans acknowledges it's anyone's guess as to how long that trend will last. He also added that he sees a great opportunity in the stock industry for illustrators. "Personally I think this is a great opportunity for new illustrators and graduates alike to get exposure in this difficult industry, and to open new opportunities."

Music
PHOTO CREDIT: ©WILLIAM EVANS
The Illustration: Music
The Inspiration: Music and urban living.

The Process: "My thought process was to start on the basis of stencil/graffiti," Evans remembered. "I started by taking photos, which I then took into Photoshop.… I played around with the Levels and Curves, and Pasteurise until I was happy." Once he had just the right level of detail, he took his creation into Freehand where he traced the edited images. "I always take images into Freehand first," he said, "as I am more fluent in that application, and, therefore quicker." Next, Evans popped the piece into Illustrator to create the composition and add color. "I finished by taking it back into Photoshop to add final detail and extra layer effects."

Bottle
PHOTO CREDIT: ©WILLIAM EVANS
The Illustration: Bottle

The Inspiration: "I'm constantly thinking of objects I can use in my designs. With this one I took an everyday object then just went off on it, letting it go and not really knowing where it would end up."
The Process: Evans started by coming up with concepts—exploding, colorful, and energetic—and kept these in mind throughout the process. "I started to play around in a blank Illustrator file deciding on the main focal point, the bottle, and then working around it, adding swirls and sloshes," Evans said with a smile. Once he was satisfied with the final piece, he used Photoshop to add final detail and extra layer effects.
Top 10 things Evans can't design without:
1. 2.1-Ghz G5 iMac: "My beautiful baby," Evans cooed affectionately.
2. Macromedia Freehand MX: "I always start my work here."
3. Adobe Illustrator CS2
4. Adobe Photoshop CS2
5. www.istockphoto.com
6. www.bbc.co.uk: "I'm constantly checking the news on this website," Evans said.
7. A sketchbook
8. Digital camera (he's saving up for a digital SLR)
9. My collection of books
10. iTunes: "My collection of music."
The Multimedia Guerrilla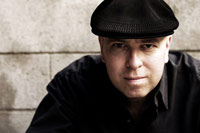 Can a hard-core software developer and programmer with no formal training become a successful Web and multimedia designer? Ask Niilo Tippler and you'll find the answer is a resounding, "Yes!"
A UK native, Tippler's background in IT and design spans over twenty-four years, and he's come a long way from developing software for British Telecom. Tippler transitioned into multimedia CD-ROM development in the early 1990s and has produced several critically acclaimed titles. He participated in the production of Peter Gabriel's groundbreaking XPlora1 CD-ROM, and he also developed a proprietary code engine for analyzing digital audio information and translating it into visual effects, the forerunner to today's iTunes' mesmerizing visuals.
Tippler has also worked on highly successful multi-CD infotainment titles, such as McGraw-Hill's Pony Express Rider and Virgin's One World Atlas and One Tribe encyclopedia. He has also produced a wide range of CD-ROMs for Fox TV, Fox Sports Net, Sony Vaio, FranklinCovey, and Motown.
Life changes in a Flash
When Tippler discovered Flash, it was love at first launch; and with the introduction of improved scripting features in Flash 4, he began implementing coding techniques from his programming days. "For me, programming is as much art as it is coding; it's a creative process. I see what I want to do in my head and I just start making it. I never had any formal training so I don't really do anything by the book," Tippler said. "Don't expect specifications, discovery documents, flowcharts, and rigid schedules from me…evolution is the name of the game," he tells his clients. "Life evolves, so does art; and for me, so does the whole development process."
His programming background dovetailed perfectly with his newfound passion for creative vision and design. "When it comes to software, I'm a purist," Tippler said. "I love my basic work suite: Photoshop, ImageReady, Flash, Dreamweaver. These are the core of my production workflow," stated Tippler. He uses Photoshop's adjustment layers and layer masking extensively. There's only one third-party plug-in that he uses regularly, and that's PictureCode's Noise Ninja (www.picturecode.com). For removing noise from photos, especially high ISO shots, he says it's invaluable.
Tippler's unique blend of engineering and design methodologies result in work that's the best of both worlds—function and form. "Design by Engineering by Design" is an axiom by which he works, seeing not just the front-end nor the back-end, but the melding of the two. The unique community on iStockphoto.com has also been integral to his success, and their iStock Steel Cage Photoshop battle is where he feels the most creative.
These images are a result of Tippler's own images, images downloaded from iStockphoto.com, and the images from other players' blows in one of the iStock Steel Cage battles.
Turning Japanese
When it comes to inspiration, Tippler points to books. "I was able to work my way into the job market through sheer determination and self promotion," Tippler recalled. "Whenever something came up that I didn't know, I just got a book and taught myself how to do it." He loves design anthologies and has a huge library that he browses for ideas. In particular, he likes the Society of Publication Designers Publication Design Annuals and the Creativity series (www.spd.org). For personal inspiration he looks to Japanese marketing design, and back a few generations to the '60s and '70s. "Two decades so ultimately different, but whose identities provide immense opportunities for a designer."
When asked about where the Web and multimedia industry is headed, Tippler said we should look to Japan to see the future. "Technology is far more heavily integrated into Japanese society than it is in the West," he said. "IT communication is fluid and constant. We think we're deeply immersed in it here in the U.S. but this is the tip of the iceberg. Japan has always been a couple of generations ahead in terms of the way they use and integrate technology into their daily lives. That's where we're heading in a few years."
In January of 2001, Tippler realized the dream of working for himself by founding UPSIDEDOWNDOG (www.upsidedowndog.com), a multimedia design and development studio, specializing in Flash game and activity development. His client list includes Mattel and Fox Television, and his projects run the gamut of the interactive spectrum. Among his latest are a website for a New Jersey candymaker, a dog training CD-ROM, a paintball game for William Shatner, a website for a technology staffing company, and games for The Simpsons and American Idol.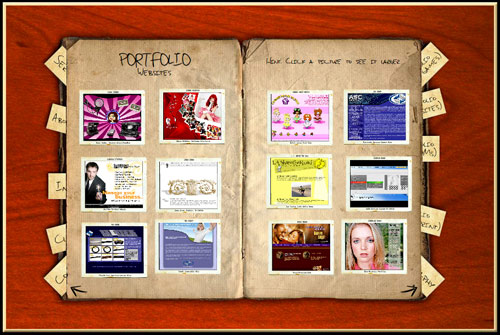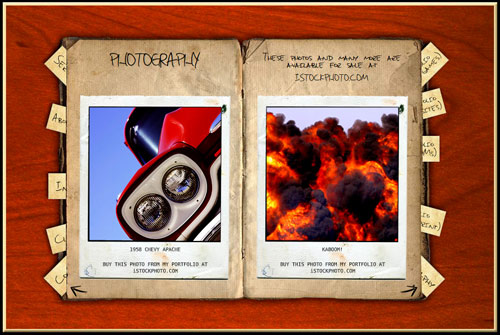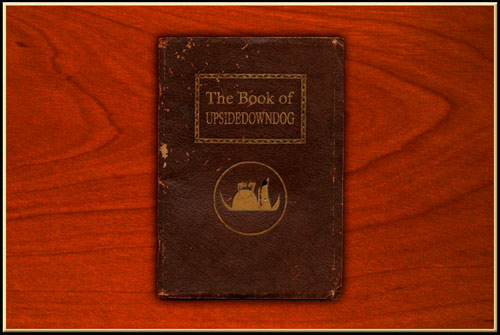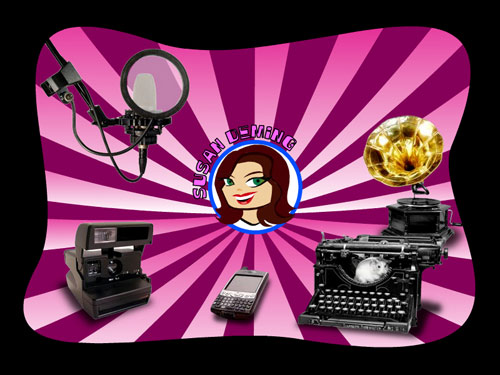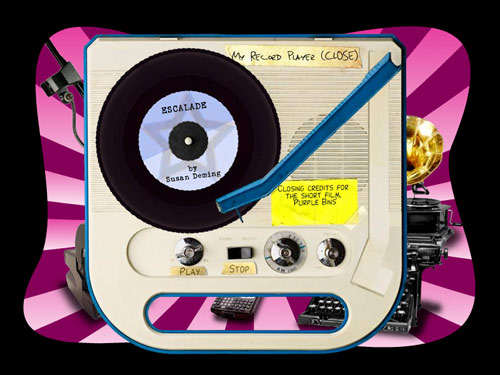 SusanDeming.com
PHOTO CREDIT: ©NIILO TIPPLER
The Website: SusanDeming.com
The Inspiration: Tippler's inspiration for Susan's site came from Monty Python. "Their style of animation, using a mix of cartoons and real objects in a pseudo-realistic setting where perspective, light, and the laws of physics are bent out of shape, seemed perfect," Tippler said. "Susan was involved in the official Python website, and I've always been a huge fan, so this seemed the perfect direction to take."
The Process: The site was created in Flash, though everything was first put together in Photoshop, then saved as PNGs with transparent backgrounds. "The old '60s-style record player used to play Susan's songs shows a particular style of design that I really enjoy producing: real objects with added layers of elements which build it into a user interface," said Tippler. "It's this combination of real and unreal which has become something of a trademark in my designs," he said with a smile.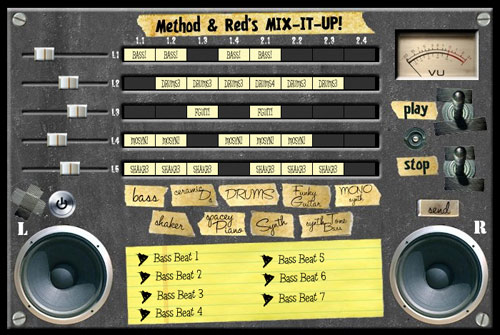 Method & Red's Mix It Up
PHOTO CREDIT: ©NIILO TIPPLER
The Media: Method & Red's Mix It Up
The Inspiration: This was a project for Fox Television to accompany a new hip-hop comedy show called Method & Red. "Hip-hop came from the underground," Tippler said, "so I wanted to present this audio mixer as something which had been cobbled together with bits and pieces of other equipment, and held together with tape and bits of string. Again, this is where my pseudo-realism style came into play. I built the entire concept in Photoshop, layering numerous elements together, building the interface from old switches and buttons, and using real VU meters whose needles I could animate in Flash. The whole design is a true collaboration of photographic imagery and animated Flash vector elements.
The Process: The specs were quite vague, Tippler remembered, "Just create an audio mixer using supplied sound samples, allow the player to create a short piece of music and then let them email it to a friend. Kind of an audio eCard." Though the project timeline was unbelievably short (about a week), Tippler said it's one of the projects he's most proud of.
Top 10 things Tippler can't design without:
1. Dual 2-Ghz Power Mac G5 with 2.5GB RAM and 1-TB of hard drive space
2. Twin ViewSonic 18″ VX800 LCD display
3. Macromedia Flash 8 Professional
4. Adobe Photoshop CS
5. Macromedia Dreamweaver MX 2004
6. FontAgent Pro v3.0.2 by Insider Software
7. Transmit FTP v2.6.2 by Panic
8. Apple Titanium PowerBook G4
9. Apple Pages v1.0.2
10. Chocolate (any version!)