This Artist Creates Impressive Conceptual Illustrations That Are Both Complex and Minimalistic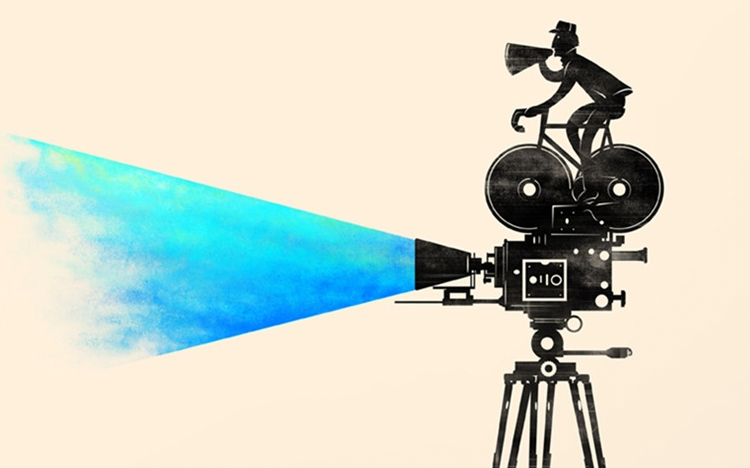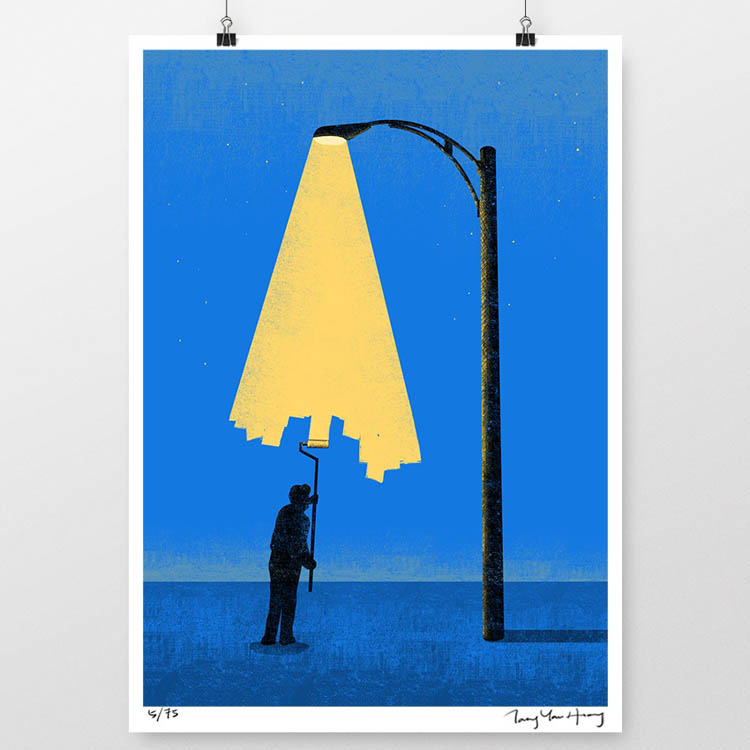 Kuala Lumpur-based illustrator Tang Yau Hoong maintains the perfect balance between editorial, advertising, poster, book cover, t-shirt, and personal illustrations. Over time, he's accrued notable, world-renowned clients such as Simon & Schuster, NIKE, New Scientist, Harvard Business Review, and Esquire. When he's not designing dynamic commissioned pieces, the artist creates his own prints that revolve around the concept of surrealism. He also expertly utilizes negative space to challenge himself when cultivating his versatile and expansive portfolio.
When it comes to inspiration, Hoong is able to find muses all around him, but turns to pop culture more often than not. "I find inspiration in everything I see and hear," he tells us. "Images, photography, movies, and music are what I turn to when I need inspiration." While he may look to other forms of media for motivation, that doesn't prevent the illustrator from sustaining a streak of originality. Essentially, he's capable of creating designs that represent his distinct thought-patterns and innate creativity – even when he looks to another source for inspiration.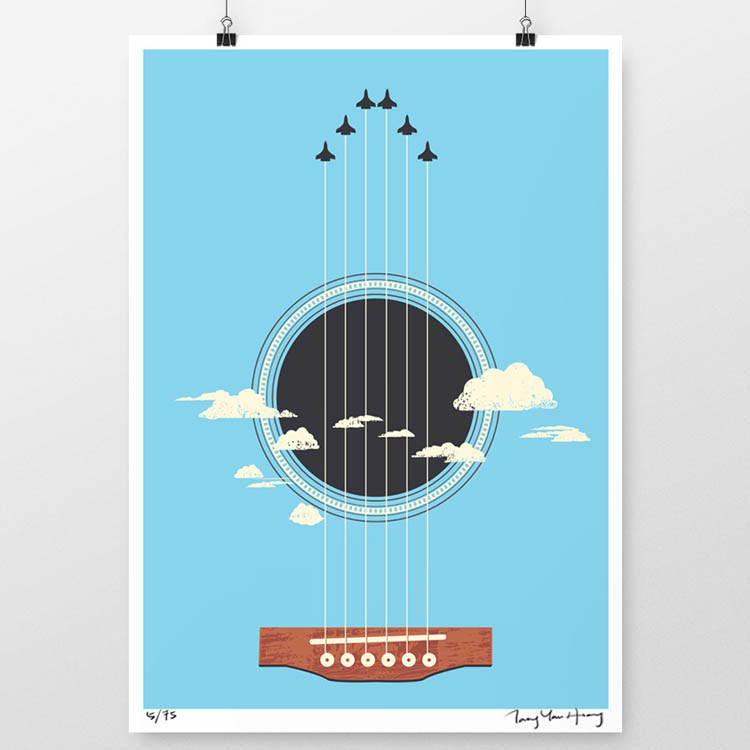 While his well-defined individuality may appear effortless, the artist assures us that it isn't. "The most difficult thing is to come up with an illustration that is unique in style and original in concept at the same time," he admits. Showing how his line of work is truly an exercise in expressive equilibrium.
To describe his own handiwork, Hoong chooses these four words: "simplistic, conceptual, surreal, and subtle." Within each and every illustration that he produces, there is a keen sense of harmony. At first, you may notice the surrealism that is ever-present in his designs. Then again, when you look closer, that's when you realize that the artist's work is impressively minimalistic. In combining an otherworldly depth with clean lines and profound concepts, Hoong consistently portrays his passionate ingenuity.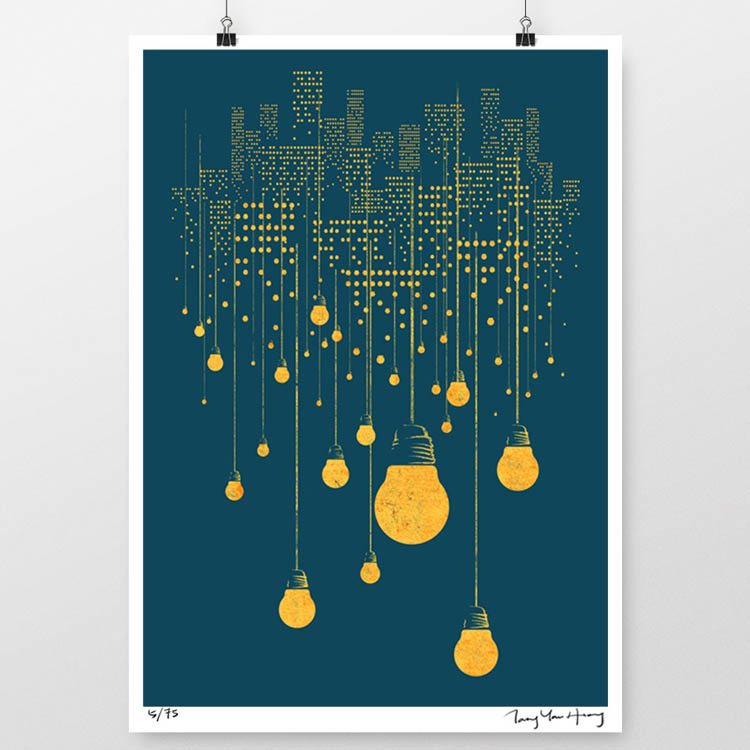 The illustrator's creative process is actually quite similar to his artwork in that it is both complex and straightforward at the same time. "I will do a lot of brainstorming and sketching," Hoong reveals. "An idea is always an unexpected evolution of something very simple." Based on the creator's images, it makes sense that they develop over time. Within his work, basic ideas beautifully blossom to make viewers see common creatures, objects, and landscapes from a unique perspective.
"I always wanted to make something thought-provoking. Not necessarily a big idea or serious thought, maybe just something that is able to leave an impression or intrigue viewers," Hoong explains when discussing how he wants others to see his pieces. To develop artwork that serves as a visual puzzle, the printmaker employs mostly digital tools. Occasionally, he will construct a certain texture by hand, so that there's an extra element for viewers to enjoy and interpret.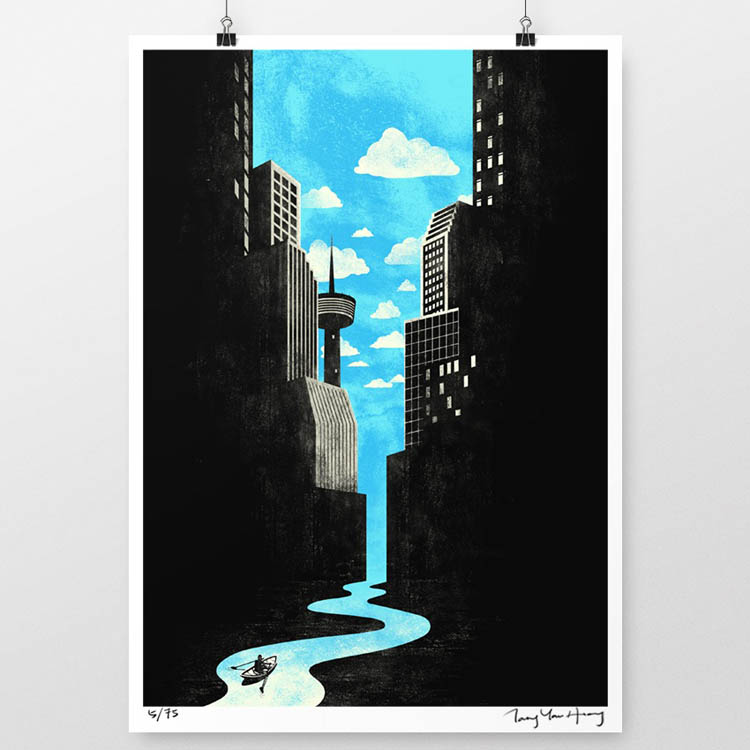 Most importantly, Hoong has some advice for those who want to achieve similar success. "Find your own niche and keep working hard on it," he states. "I know I am on the right path when I look back at my work after years and I still like it."