These Two Creatives Reimagined Famous Directors as One-of-a-Kind Houses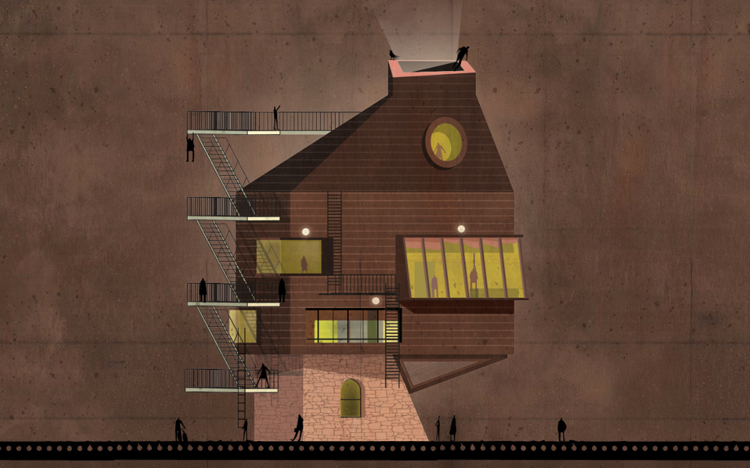 Federico Babina is a graphic designer and architect who aspires to express himself in new and exciting ways. Leonidas Mamais is a creative technologist who aims to transform abstract concepts into full-fledged virtual projects for audiences everywhere to enjoy. Together, these two worked to produce Archidirectors: an online adventure that reimagines famous directors as beautiful one-of-a-kind animated houses.
"As someone who loves both cinema and architecture, it's easy for me to find similarities and parallels between the two disciplines. They are two worlds that sometimes observe each other from a distance and, at other times, they meet and merge," explains Federico Babina, when describing his Archidirectors project. "The directors are like the architects of cinema. They are those who build stories that, like buildings, envelop the viewer and carry them to a different world. The architecture is like a scene from a movie where the story is the world, the script is dictated by the use of the building, and the actors are the residents. Each director has their own style, language, and aesthetic, which allows them to think, plan, design, and build places/stories that host us for the duration of their movie."
In collaboration with Leonidas Mamais, Babina was able to bring his twofold vision to life. What resulted is Archidirectors, a project that impressively transforms the cinematic masterminds we know and love into works of architecture that perfectly capture their essence. Babina describes this process as "an abstract exercise of translating one language into another," which involved a director's aesthetic and movie language becoming a series of unique forms and architectural geometries.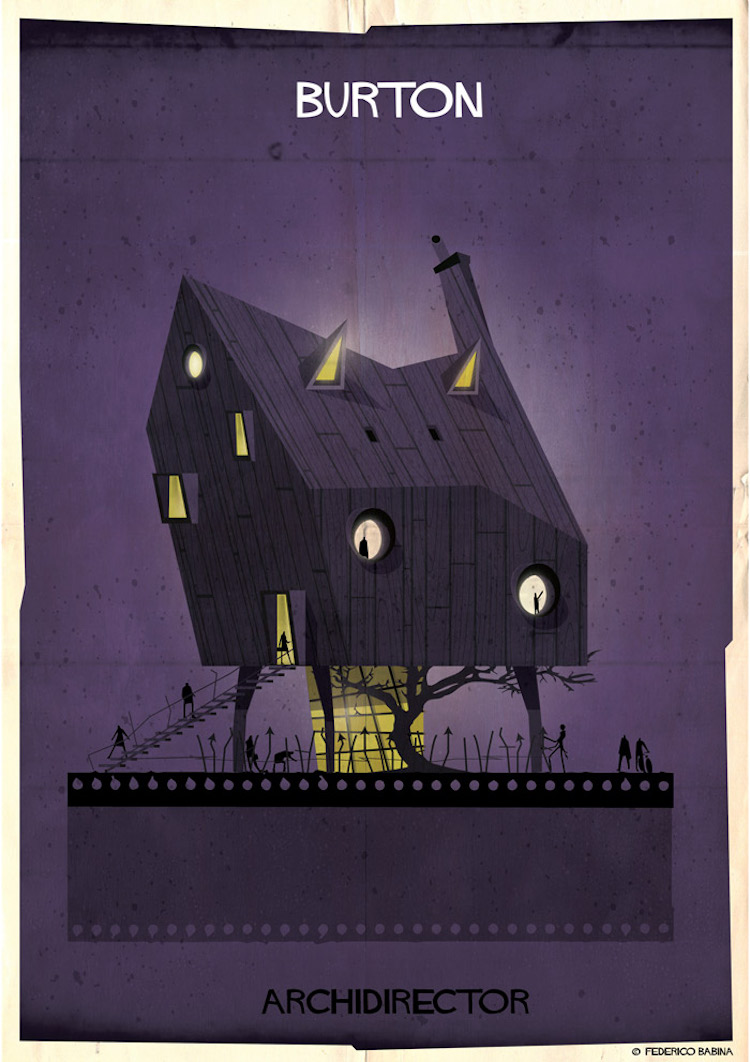 Both creatives began this process by allowing Babina to reimagine the films that spoke to him, which resulted in 27 houses. As he illustrated these pieces, the architect listened to soundtracks from the various directors' movies, to soak up the atmosphere he aimed to recreate. Additionally, his perspective often focuses on seeing the world through the eyes of a child, since they "are able to have a vision of things totally uninhibited and without the conditioning of experience." Babina and Mamais then narrowed down the selection by choosing ten illustrations that fit three guidelines: "We chose houses that had a story to tell, houses that would result in a better user experience with the presence of music and sound effects, and we wanted most of the directors to be popular," explains Mamais.
Once Babina created the idiosyncratic homes, Mamais then worked to make these designs (initially made for printing) suitable for a virtual adventure complete with animation and Elisabet Raspall's music, which was specially composed for the project and tailored to fit each director. "We spent some time discussing how the illustrations could be 'transformed' into something more interactive that would bring added value to the project," Mamais reveals. "We planned things out based on what technology can offer and what limitations it brings." Overall, Archidirectors took Babina and Mamais several months, especially since they weren't able to work on it full-time.
Each component of this project is saturated in stunning details. To pick and choose which elements to include for each director, the creators re-watched many movies to give their work a necessary depth. "In a movie, the camera's movement helps us discover spaces that reveal the interiors where the main characters live. I enter on tiptoe, through my drawings, in these rooms and environments. I touch objects, I look through the windows, I open doors," Babina poetically states. "I like to think that, in set design, each object is carefully chosen. Nothing is left to chance. Each item participates in the script and helps along the development of the plot. A half-full glass on a table reveals clues and becomes part of the puzzle that makes up the story."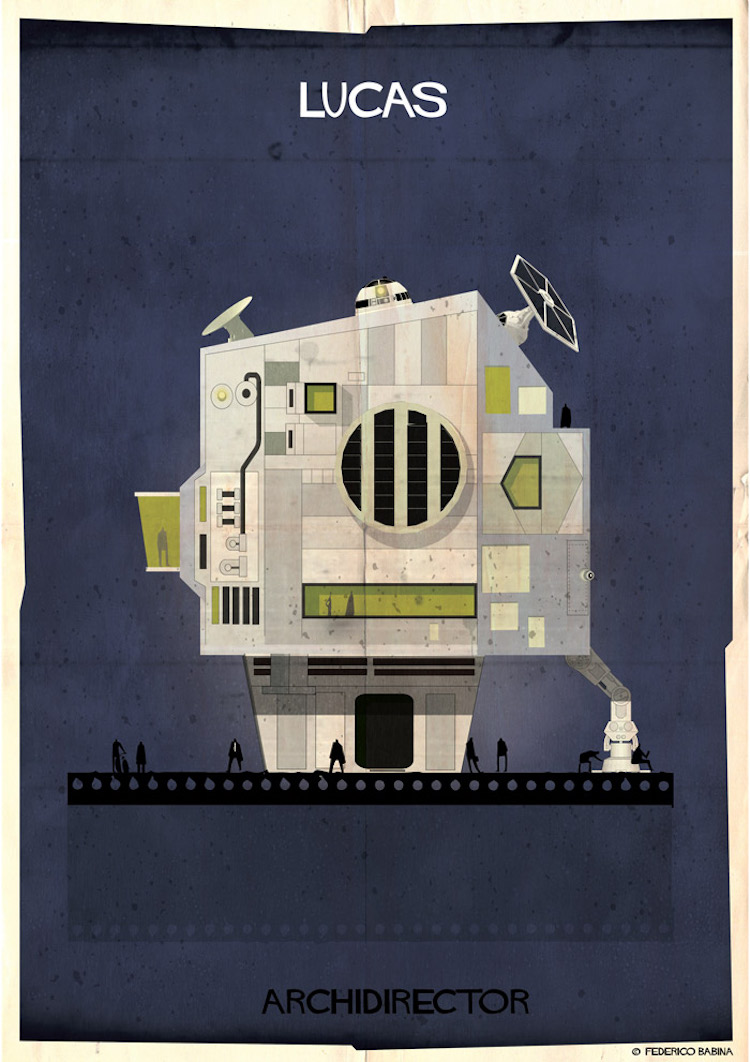 Interestingly enough, Babina and Mamais have never met in person. Instead, they utilized Skype and emailing to get their ideas across. However, both encountered individual challenges as they worked to breathe life into Archidirectors. Mamais wanted to make sure that mobile users would be able to enjoy the project's website in its entirety, whereas Babina faced obstacles when attempting to take sizeable movies and scale them down into miniature, illustrated works of architecture. Even so, both enjoyed working together because it allowed them to see this impressive idea blossom for others to delight in.
As a creative technologist, Mamais advises those who are interested in technology to "find a balance between technology and creative design. You have to make technology a tool to serve creative ideas and not the other way around."
Babina, on the other hand, speaks to aspiring architects and graphic designers when he remarks, "Do not listen to advice! Find ways to express yourself and deeply enjoy your work."
More Work From Archidirectors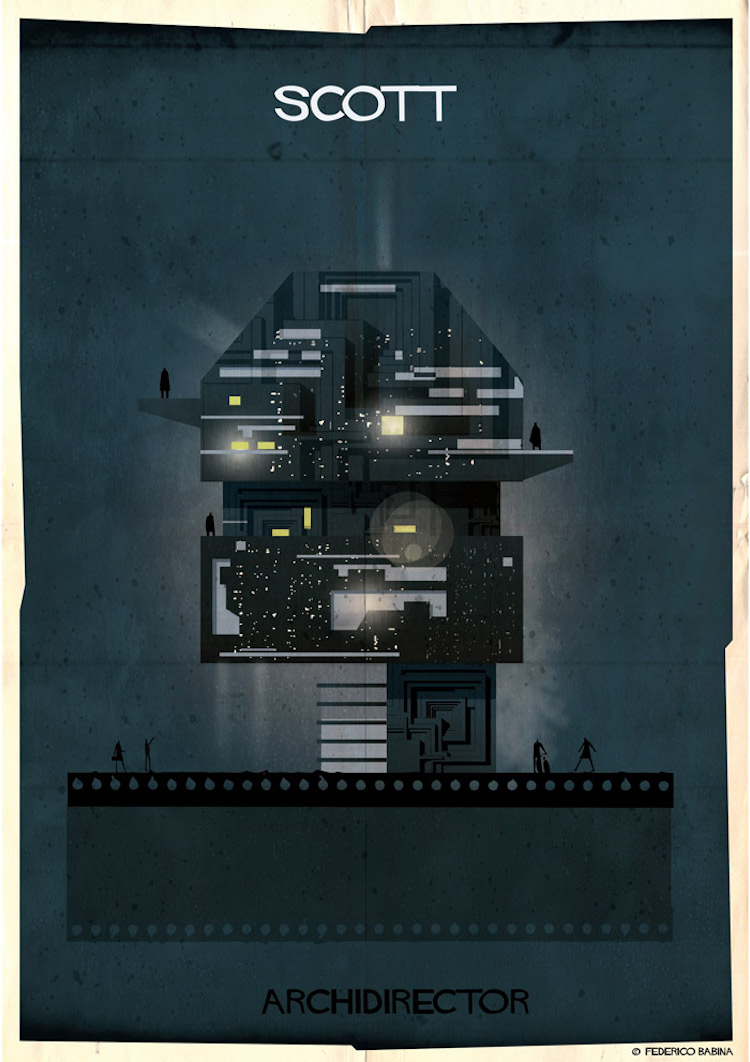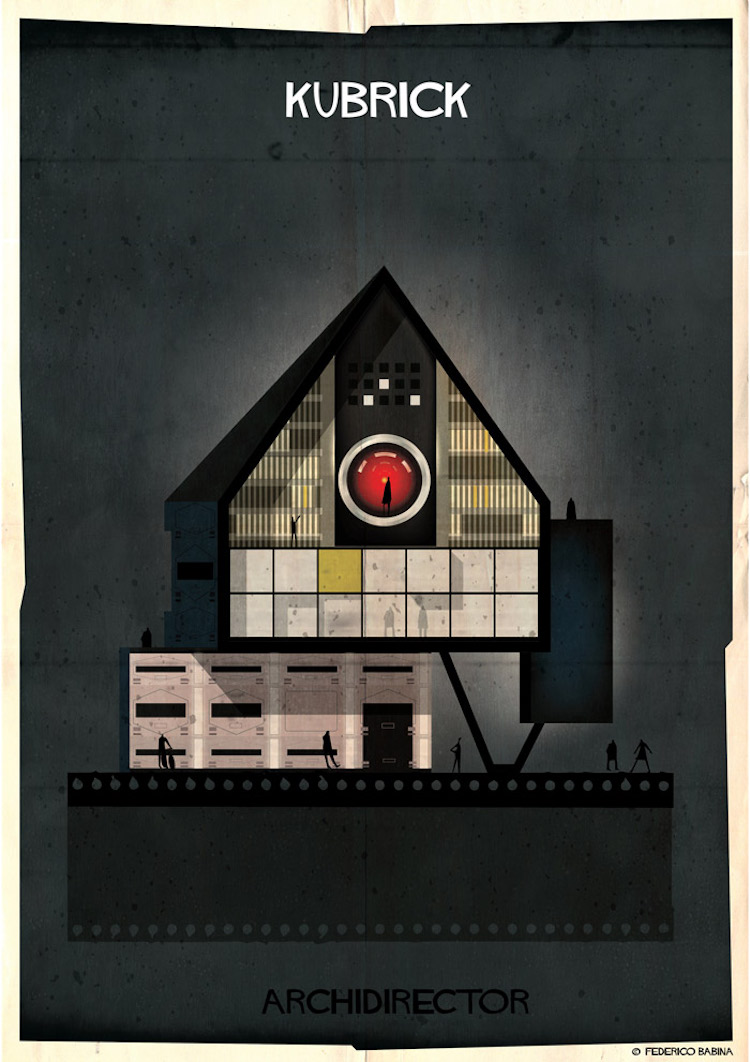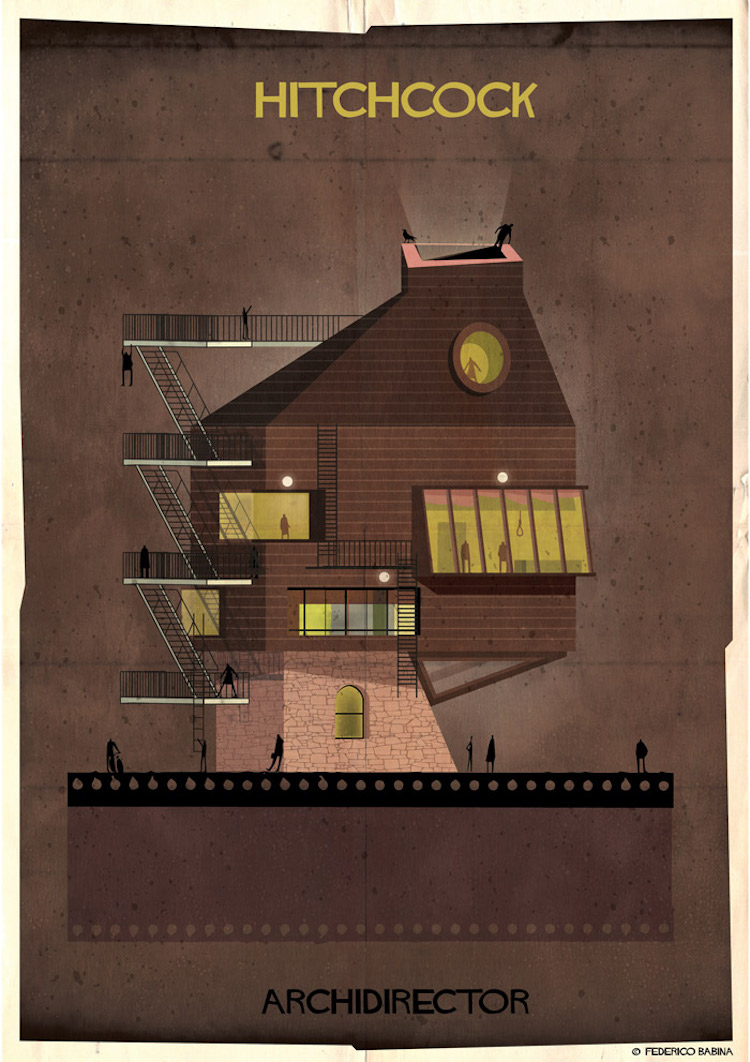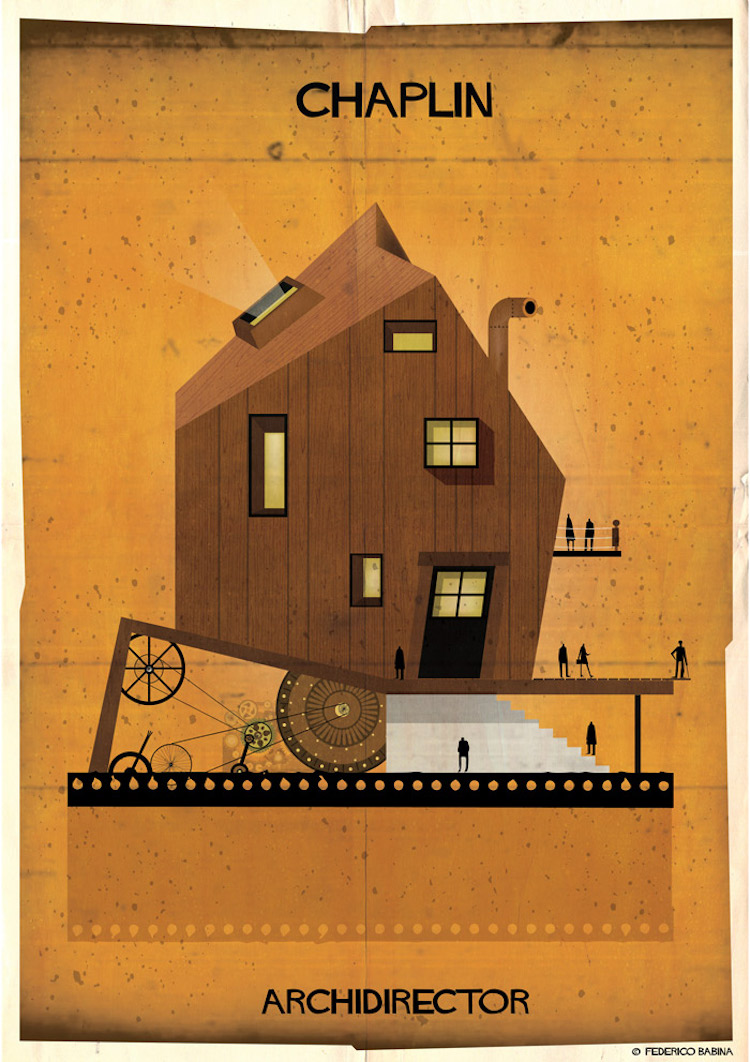 To see the more from this project, visit the Archidirectors Website. Connect with Federico on his Website, Facebook, or Twitter. Connect with Leonidas on his Website. Images used with permission.