Strata 3D Suite
Powerful 3D applications for the designer, illustrator, and mixed-media artist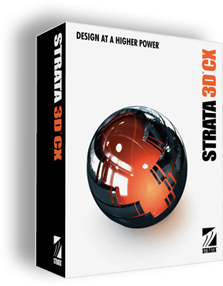 While Adobe offers solutions for print, Web, and video, it's oddly lacking in the 3D space. Strata has attempted to fill this need by offering powerful tools that integrate well with Adobe products and share many similarities in their interfaces. Strata's products are not unknown to traditional 3D, having been used for many years for both film and video; however, the tools have been reworked so they're more approachable for print and Web designers. That's not to say a 3D neophyte can walk in and create stunning work with a few clicks; the traditional learning curve still exists, but Strata has lowered its steepness.
Strata 3D Suite
Strata is attempting to bridge the gap for designers and illustrators from the 2D world to the third dimension by bundling their three core products in the Strata 3D Suite (all at a savings of $690 to the end-user). Strata has clearly paid attention to Adobe aficionados with its robust Strata 3D CX 5.0 flagship product, as Adobe users will recognize many of the core tools in the main palette. Strata Foto 3D makes it possible to take nearly any object and make a 3D model with just a little set-up time and a digital camera. The final cog in the machine is Strata Live 3D, which works hand in hand with Strata 3D CX to publish your models to the Web or within an Acrobat 7-compatible document.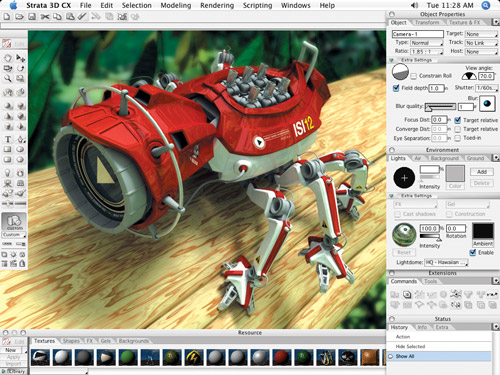 CREDIT: IMAGE BY THORBJØRN HAARUP LAURSEN
Strata 3D CX 5.0 (Price: $695; Rating: 4 stars)
Jumping into the 3D realm can be intimidating; for example, try getting behind the wheel of Maya or 3ds Max with no prior 3D experience. Strata has made every effort to make the jump as painless as possible. Along with some familiar tools comes the welcomed History palette, multiple undos, and palette docking capabilities. But be careful because not everything is undoable. We found this to be a little unpredictable.
With a solid integration with Adobe Illustrator and Photoshop, it's easy to import an Illustrator logo file into Strata, assign a texture to it that was created in Photoshop, then render it back out into a 3D layered Photoshop file. What makes the process quite remarkable is the fact that you can update your texture file outside of Strata CX in Photoshop and the changes are reflected back in your 3D scene.
On the export side, you can save your 3D scenes as layered Photoshop files, allowing you to adjust the shadows, depth channel, reflections, and more. Having freedom like that after the render offers you more control over your images and allows you to cheat long render times by making adjustments in Photoshop. This gives you the ability to make minor changes after the render in near real-time.
Modeling in Strata 3D CX has also made the jump to Quads instead of triangular-based meshes. This new model helps when building symmetrical objects and improves compatibility with other 3D applications, such as Maya and 3ds Max. Subdivision surfaces are much more predictable in this release and symmetry is attained without the surprises expected with earlier releases. Strata 3D CX renders are beautiful. At the highest quality of render, Strata's Raydiosity includes inter-object reflection, lightdome illumination with HDRI, photon integration, and blurry reflections for ultimate realism. There's also an OpenGL-based Toon renderer that can render 3D objects to look like 2D cell animations (think Iron Giant).
It's possible to animate characters using both Inverse Kinematics and Forward Kinematics to manipulate bones. This revamped technology mirrors other high-end three-dimensional programs. You can also import fully animated models with motion capture data included. In fact, there are a series of pre-animated models to play with that are included in your Resource palette.
If you're at the level where you want to create the next Toy Story, you might find some limitations with Strata's rigging system; however, word is that you'll be able to import high-end Poser (www.e-frontier.com) characters that can be animated just as easily as if you were still in Poser, lip-synch them automatically with a plug-in called Mimic (www.daz3d.com), and then use Strata's high-end render engine to make the final output look gorgeous.
Lua scripting support (a common language in the gaming world) has been added as well. There are also quite a few very nice-looking special effects that are bundled with Strata 3D CX. There's everything from Hair to Fountains, Fire & Smoke, Pixie Dust, and more. Particle effects can also be influenced by gravity and collision. You can imagine how simple it would be to import an Illustrator logo, apply some particle effects, and walk away with a jaw-dropping animation with a perfect alpha channel to import into Adobe After Effects or Adobe Premiere.
Strata Foto 3D (Price: $495; Rating: 5 stars)
One of the greatest challenges facing a 3D user is modeling (the creation of new objects from scratch). Manipulating a prebuilt model from the resource palette is simple; but building a new model based on an existing, tangible product can be quite daunting.
Strata Foto 3D makes it possible to build a fully textured 3D model with a series of photos from your digital camera. The most critical step in the process is your homemade photo studio. You'll need to build a mini set consisting of a rotating surface (kitchen lazy Susan, old record player, or in our case a deluxe rotating Scrabble board), a large white sheet of presentation board, and the circular grid template that's provided to calibrate your photos with the software. You print out a special calibration mat to put under the object, then shoot 20–256 photos (depending upon quality you need and complexity of the subject).
If you do a decent job lighting and shooting your object, the transition to converting the images into a 3D mesh with an accurate texture map is relatively straightforward. Even if you're a great 3D modeler, applying a highly detailed texture map can be difficult, but Strata Foto 3D makes it easy. Is it as accurate as a 3D laser scan? No. Will it allow you to create 3D textured models without knowing a thing about modeling? Yes.
Strata Live 3D (Price: $495; Rating: 3.5 stars)
If you're looking to beef up your websites or PDF files with interactive 3D animations, then Strata offers Live 3D. The first thing you'll notice about Strata Live 3D is the interface. It's Java-based and the interface looks like you're using a program that might have been cutting edge 15 years ago.
Don't let the interface fool you. This is a pretty cool program that offers unique features to the end viewer or reader. Since both the application and the documents it produces are based on Java, it's inherently cross-platform. A key aspect to point out as well is that the documents do not require any plug-ins to view when embedded in a webpage or PDF file.
With the ability to script animations, it's possible to show a package design and also have the viewer open it to reveal what is inside. Having the ability to let your audience interact with a 3D model in a PDF is a sure way to impress them with minimal effort. It's just as easy to export these files for the Web.
While Strata Live 3D seems quite powerful, the ability to hit the ground running and produce PDFs or websites with 3D content isn't very intuitive or always predictable. It will take some trial and error to figure out where the balance is between a 3D file that's very complex and technically accurate to one that has a lower polygon count and is manageable. Simplifying the complexity of an object is an important consideration for ease of manipulation and export in Strata Live 3D, as well as maximizing the end-user experience. There's an art to creating the illusion of complexity in a model by having a highly detailed texture applied to it. Strata Foto 3D can be a real ace up your sleeve if you have the opportunity to photograph an object and dynamically build your models and textures for import into Strata Live 3D. You can adjust the balance between model complexity and texture complexity to achieve the best results for your audience.—Scott Rekdal & Richard Harrington
PRICE: $995 (Suite)
FROM: Strata
PHONE: 800-645-6689
WEB: www.Strata.com
RATING: 4.5
LAYERS VERDICT
HOT Easy to get into 3D; comprehensive 3D package for print and Web
NOTSome high-end limitations; undos unpredictable; Foto 3D not cross-platform