Small Flash for Outdoor Sporting Events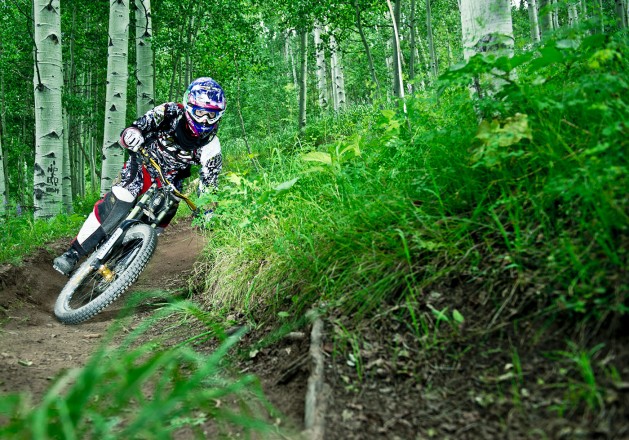 Flash photography is all about finding a balance of light. It's more difficult than shooting natural light because you're adding additional sources to the mix. Think of the sun as your first light source, and your flash as the second, third, and so on. Now add fast-moving action to the mixture and you have a whole new challenge.
Many people have a tough enough time capturing sports without flash. This is due to focus issues, glare from the sun, timing, and a number of other factors. Learning the basics first is a must. (For a large, free collection of articles on shooting action sports, check out the site I run with fellow photographer, Daniel Milchev, at www.actionphoto­school.com.) Once you've learned the basics, it's time to add flash in the mix to make your photos stand out from the pack. When done correctly, it will bring your images to a whole new level and impress people. Or it can always backfire and ruin a shoot.
Preparation
There are a few things that I keep in mind on every sports shoot to make it run smoothly. First and most importantly, there will be times when something is off with your gear and you'll need to figure out what it is. These times are very stressful when you're out on a shoot and have athletes flying by, or waiting for you. Calm down, think it through, and check over all your settings and gear. Chances are there's one small setting that's off and causing the headache. If all else fails, ditch the flash for a few shots and work natural to ensure that you at least capture something.
Flash placement is one of the most important aspects with sports. Athletes typically wear helmets with visors. This means that if the flash is placed too high, the athlete's face will be in shadows. Since the face is where most people look in any photo, make sure to place the flash low enough to light it up. For skateboarding, it typically works well to place the flash on the plastic foot that came with it and set it right on the ground angled upwards. With biking, it makes sense to carry at least a small light stand; otherwise, you'll light up all the grass and foliage and blow out that area of the photo. Choose a safe location far enough out of the way so your flash won't be run over. It's devastating when an athlete crushes or knocks over a flash!
Balancing Act
Light balance is the next step to figure out, and typically this works best with a few test shots. Think about your flash placement and the direction of the sun; often, it's easiest to place it opposite the sun. This way you have nice fill for all of the shadows. If you have multiple flashes, you can work with them on opposite sides. If the sun is behind the athlete, try placing a flash to the side of the athlete for a bit more rim lighting, and another flash just to the side in front to add fill for the shot. When it comes to multiple flashes, adding a rim light is a great way to add depth to the shot. Power it up more than your fill so that it's a bit hotter. With most small flashes, and depending on your settings, your rim light will be at least half power. This adds real punch to the image by separating the athlete from the backdrop.
A vital part of light balance is getting your flash exposure right. To get the power set up correctly, use an athlete or assistant for test images and have him or her stand in the spot where the athlete will go. If you get to the event late and can't do this, try setting it up outside the course at roughly the same distance, and then moving it into the event where you want it placed. Using a build-up method is the best strategy for multiple flashes; otherwise, it's difficult to determine what's causing a problem if you add them all at once. Begin with no flashes and get the exposure dialed in, then add one, and power it up until it's perfectly balanced. After that, add any additional flashes one at a time.
Tips For Action
These tips can ensure that you have a great lighting setup, but shooting different sports in different venues calls for varied approaches. Here's a list of some basic tips that will make your shoot go much smoother.
• When working on a trail or sloped course, start at the top and work your way down. This way you get lots of angles and shots quickly and easily.
• Use small bungee cords and straps to hold everything together on your light stand. You don't want it falling off when you run to the next spot!
• For sports, rechargeable batteries are a must to get the most power with the fastest recycle times on your flash. I use Sanyo Eneloops for everything.
• Be very aware of where the athlete is going. If you're photographing an event, put your flash as close as you're comfortable with, and be prepared for the occasional piece of flying equipment or flying athlete.
• The best shots almost always show the athlete's face or a lot of spectators.
• Use your flash to brighten the athlete in a complex scene so he or she sticks out from a crowded background. A photo viewer's eye will typically go to the brightest spot in an image first.
When shooting sporting events, I try to maximize the amount of quality shots that I capture. All too often I'll see photographers who have a great lighting setup, but they just keep shooting the same angle over and over again as if they're waiting for exactly the right athlete body position. It's best to get one or two good shots, switch locations, and change up lighting. You'll leave any given shoot with lots of unique shots, whereas the other photographer will have captured only one final image, and a whole bunch of lookalikes. Experiment with lighting at every event and get creative!
Athlete body position is another area to consider. Not only do you want to light the athlete's face, but when athletes perform certain tricks and movements, their arms can cause strong shadows that cover their faces or other body parts. Distracting shadows can be really annoying, so typically, having a fill light somewhat close in line with where you're shooting will save you a lot of headaches. Pay attention to these details!
Finally, keep in mind that when athletes do something risky for a shot, it should be looked at as a one-time opportunity. Typically, they won't want to do it again due to possible injury, so make sure everything is set up perfectly.
About the Author: See more about Connor Walberg at his website where you can read about his client list and see his portfolio of amazing images: http://cnwphoto.com/ If you want to follow him on Social Media, check out his Facebook account or Twitter feed.
We have another featured post for taking action capturing images on the water. Read this for more on sports action photography.