Q2ID v4
FROM QUARK TO INDESIGN IN A SNAP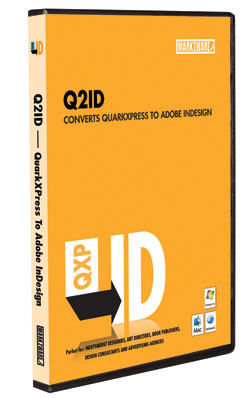 The main focus of Q2ID v4 is to support InDesign CS4 and QuarkXPress 8 files. One important thing that's changed in this version is the updated conversion notes PDF, which now lists most of the conversion issues you might encounter. Another change is that you can use either the InDesign Open menu or the new Markzware menu. Quark files with multiple layouts can be converted individually or all at once; multiple Quark files can be converted, too.
This version appears to fix most of the issues I noted in the last version, including keeping the proper based-on settings, better translations of Quark's transparency effects into InDesign (with one major exception noted below), and better layer translation between programs.
The biggest glitch I could find was that text with opacity applied to it in Quark is translated to tinted text in InDesign, even if the text had just one opacity setting for the entire text block (Quark can set opacity on a per-character basis). Opacity of text should be honored and if the text has multiple opacity settings, the first character's settings should be used. A less-critical issue is the stroke alignment—Quark typically positions the frame inside the item, whereas InDesign centers the stroke on the object. These are the defaults used during translation; however, InDesign does support aligning the stroke inside the object. This is an issue when using opacity on the stroke.
Other areas that still need improvement are some text conversion settings (such as keep-with-next-paragraph settings and discretionary line breaks), Photoshop layer control, and conversion of item styles to object styles.
Overall, Q2ID does a great job converting QuarkXPress documents to InDesign. Considering there are no other options out there, this plug-in is a must-have.—David Creamer
Company: Markzware
Price: $199
Web: www.markzware.com
Rating: 4.5
Hot: Easy to use
Not: Opacity on Quark text doesn't translate