Olympus EVOLT E-510
Digital SLR kit with two lenses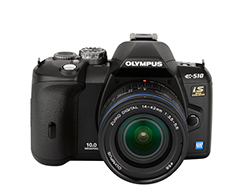 What's impressive and distinguishes the Olympus EVOLT E-510 10-megapixel digital SLR is that for less than $800 you get a quality camera that has a feature set on par with more expensive models. It includes Live View, automatic dust removal, image stabilization, and supports CompactFlash or xD memory cards. It's available bundled with two decent Zuiko lenses, a 14–42mm f/3.5–5.6 and a 40–150mm f/4–5.6, making it a seductive package for people who want to get their digital toes wet but don't have deep pockets.
With a lens attached, the E-510's textured composite body is relatively compact, lightweight, and well balanced. The shutter release, mode dial, and control buttons are within easy reach of the handgrip. The mode dial includes manual, program, automatic, aperture, and shutter priority, plus five preset scene modes with direct access to 13 more in the menu. The Panoramic stitching preset works only with Olympus' proprietary xD memory card, but is well implemented with the E-510's Live View and a graphic overlay that assists in aligning your images.
Olympus deserves high praise for simplifying access to key features in place of tedious menu scrolling. All buttons, including the four navigational buttons, are labeled with specific features, such as ISO, White Balance, etc. When you press any of the buttons it immediately brings up the relevant menu options on the LCD. In addition, more feature menus can be directly accessed by pressing the navigational OK button. It's well designed, quick, and effective.
The five metering modes work admirably with well-balanced exposure whether using spot metering for backlit subjects or their 49-point ESP average metering for everyday light situations. Shutter speeds range from bulb to 1/4000 sec and ISO works on automatic or manual from 100 to 1600. The sensor is based on Olympus' proprietary Four Thirds standard (practically, this means a lens multiplication factor of 2x for 35mm equivalent). The image stabilization system built into the body measured up well correcting for any movement I made down to 1/30 sec.
Live View is accessed via a dedicated monitor button; however, images wash out in bright outdoor light on the 2.5″ inch LCD, making composing and viewing images ineffectual with Live View. On the other hand, kudos to Olympus for including a live histogram with Live View for accurate exposure, grid overlay for object alignment, pertinent onscreen EXIF data, a movable focusing rectangle, and up to 10x onscreen image magnification for precision manual focus. Despite mirror lock-up in Live View, autofocus can be briefly accessed via the AEL button but this causes a lag that makes shooting a moving subject futile. In general, I prefer using the optical viewfinder.
Other shortcomings are that the E-510 uses only three automatic focusing sensors as opposed to nine found in most competitors' cameras; it's relatively slow at 3 fps (RAW) in Continuous mode; and you have to go into the menu to activate manual focus.
I shot all pictures in RAW format using auto white balance and, while noise became a factor in ISOs greater than 400, I made quality 17×22″ prints with well-saturated colors, smooth gradients, no fringing, and good highlight and shadow detail. Great battery life combined with solid performance makes the EVOLT E-510 a good choice.—Steve Baczewski
PRICE: Approximately $750 with 2 lenses
FROM: Olympus America Inc.
WEB: www.olympusamerica.com
RATING: 4.5
LAYERS VERDICT
HOT Full featured
NOT Some performance issues; no weatherization