Nikon D90
MIDRANGE DIGITAL SLR THAT CAPTURES HIGH-DEFINITION VIDEO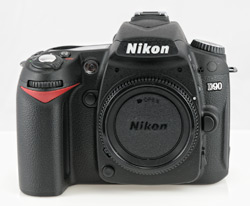 The Nikon D80 debuted in September 2006, and it has had a long and successful run (by digital standards). At first glance, the new Nikon D90 looks very much like the D80 it succeeds: They're similar in size and weight but take a look under the hood and you'll find there's a wealth of improvements and new features. The 12.3-megapixel D90 sports a new CMOS sensor that reaches the quality of the D300 at ISOs up to 3200 (6400 in Hi 1 mode).
The LCD is the same high-resolution 3″ screen that's used in the D300, D700, and D3. The new Live View function can be activated with the push of a button. When in Live View mode, you can capture high-definition movies and sound (mono), a first for any digital SLR. While the image quality from the movie mode is outstanding, there's a significant learning curve for still photographers. As with high-end, professional production video cameras, autofocus is lost when using the video mode and viewing is done using the LCD. I felt awkward using it but, like any new technology, my skills will improve with a little practice.
Viewing the LCD in bright light is a challenge that you'll need to overcome when using the video mode. I think this is just the beginning of things to come, and before we know it, high-definition video will be available in all digital SLR bodies.
The D90 has the same 11-point focusing pattern as the D80, with the added benefit of 3D tracking for improved tracking of moving subjects. The faster 4.5 frames per second burst speed, shorter start-up time, and reduced shutter lag make the D90 a respectable contender when photographing action. Also new to the D90 is built-in sensor cleaning (sensor shake) that vibrates the sensor to help prevent dust from adhering to the sensor, which can cause unsightly UFOs on your images.
The D90's interface has been improved and I found it to be very user friendly as I explored the menus and settings, without having to refer to the manual. The new Nikon GP-1 GPS unit will work with the D90, inputting location information into the EXIF data of each image.
The D90 uses the same battery as the D80, D300, D700, etc. And for D80 users, the D90 takes the same SD/SDHC media. The optional vertical grip is also the same one that's used by the D80. With a price of less than $1,000, so many new-and-improved features, and the ability of the D90 to use many of the D80 accessories, I think it's a no-brainer upgrade for D80 users and a great step-up camera for new digital SLR owners.—Laurie Excell
PRICE: $999.95 (body); $1,299.95 with 18–105mm lens
FROM: Nikon U.S.A
WEB: www.nikonusa.com
RATING: 4.5
LAYERS VERDICT
HOT High-definition video mode
NOT Learning curve using the video mode