M-ROCK Camera Bags
GLACIER 516, OLYMPIC 527, AND ZION 525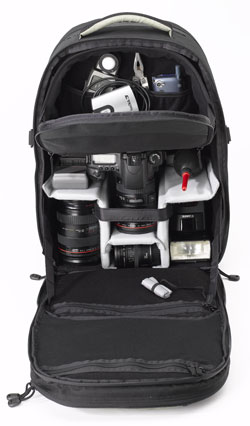 When it comes to camera bags, every photographer has an opinion about what works and what doesn't, and everyone is correct. In fact, camera bags are so personal that they often elicit strong praise or harsh criticism. So what do the Glacier, Olympic, and Zion bags from M-ROCK have to offer?
All three bags are well-made from rugged materials with tough stitching and generous padding. Each bag tested includes a lens cloth and a rain flap and weather jacket to cover the bag in inclement weather. Also, M-ROCK offers a number of attachments for these bags, including water bottles, memory card pouches, and camera straps, to name a few.
The Glacier 516 bag is the smallest of the three bags we tested. It's a top-loading bag with a U-shaped divider that acts as a lens cradle. The Velcro tabs on the divider allow you to move its position in the bag and configure it to your liking. There's room for the camera body with lens attached, plus another small lens or flash, and lens filters. The small zippered compartment on top of the bag holds lens-cleaning papers, a couple of filters, or a small manual. There's a bungee cord at the bottom of the bag for carrying a tripod, light jacket, or water bottle.
The most interesting and innovative feature of the Glacier is the two padded straps. These straps attach in a number of locations to allow you to configure the bag any way you like. For example, the bag can be carried as a backpack, shoulder bag, chest bag, or fanny pack (when used with the optional modular belt). It's quite comfortable, although I did fight with the straps when using the bag as a backpack because the swivel straps don't stay in position as you put on the bag. Once you wear it as a backpack, it works really well.
This is a nice day bag or first bag for photographers new to digital SLRs who don't have a lot of gear. But it's a little bulky and too small for an all-around bag if you own a couple of lenses and a flash.
The Olympic 527 bag is a roomy sling-style bag that accommodates a camera, several lenses, plus a flash and other accessories. It's deceptively large and doesn't feel bulky. A small zippered compartment at the top holds lens-cleaning papers, filters, etc. The interior features a modular divider system so you can tailor the bag to fit your gear. There's a dual-access compartment at the top of the bag (front and side), numerous small zippered compartments, and a wire port on top to slip a headphone cord through (nice touch). As with the Glacier bag, there's a bungee cord at the bottom for carrying a tripod, jacket, etc.
The only problem with the M-ROCK bags in this size is that they're all sling bags. The smaller bags can be configured as backpacks, and the large bags are backpacks, but the midsize camera bags are all slings. While that may be fine for some photographers, I prefer a backpack-style bag. (Remember, everyone has an opinion.)
Finally, there's the Zion 525 bag. This backpack bag is enormous and can hold most anything you need including multiple bodies, lenses, flashes, a laptop, and accessories. (An optional hydration bladder is available for use in the laptop compartment.) The Zion features numerous zippered compartments, modular interior with extra dividers, and a removable accessory bag with shoulder strap. There's almost no limit to the ways this bag can be configured. You can add dividers to the accessory bag for even more interior room. It also features a wire port for headphones, and shock cords on the front and bottom. Though comfortable, this bag is huge.
If you're in the market for a new camera bag (or camcorder bag), check out M-ROCK bags. The company has many other models and complete details on their comprehensive website.—Mike Mackenzie
Company: M-ROCK
Price: Glacier 516: $60; Olympic 527: $90; Zion 525: $200
Web: www.m-rock.com
Rating: 4.5
Hot: Rugged; well-made; customizable; nice touches
Not: Lack of true midsize backpack-style bag; some models bulky