Lucid from Athentech is Out!

Photographers all find themselves in the position of having an image that needs a little adjustment. If you are looking for a new option for your editing needs, consider Lucid from Athentech. Lucid offers the same patented Perfectly Clear technology and the same Beautify technology but as a standalone software or iOS app for those who want a quick solution with limited editing

With Lucid photographers have the option to make quick adjustments to their images without spending hours in Photoshop. With a number of presets created to enhance images, you can share stronger images faster. Even if your Photoshop skills are top notch, you may want an option for quickly editing images with a few clicks. Lucid is available as a standalone software or an app (available for use on the iPhone/iPad/Mac/Windows/Microsoft Surface). If you want a quick option for revealing the image you know is hidden in that photography, Lucid may be the solution for you with your mobile camera images or your DSLR images.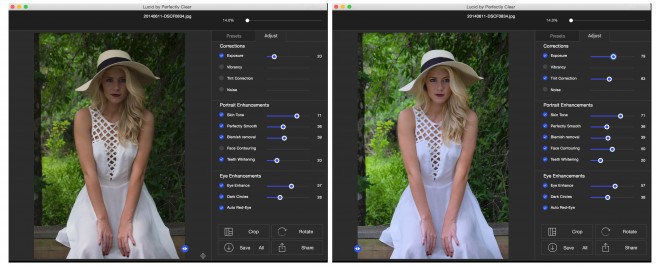 Lucid features technology that promises to analyze your image and apply appropriate corrections for skin tone and gender. This should be a great piece of software for those who want to quickly get their picture toned, without a lot of fuss.
Athentech is offering a special where you can get Lucid for as little as 29 bucks.  Make sure you click on this link and check them out.  Congratulations guys!