imagePROGRAF iPF6100
Large-Format Printer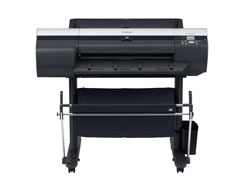 The imagePROGRAF iPF6100 is the latest 24″ wide-format printer released by Canon U.S.A. With the promise of solid performance and great-looking prints, I was eager to put this printer through its paces.
As the printer weighs in at more than 150 lbs, it took two people to set it up. The ink installation was pretty self-explanatory and straightforward but we ran into some difficulty loading the paper. It wasn't long, however, before the printer was up and running, ready for testing. The iPF6100 sports USB 2 connections as well as 10/100 network connectivity, which I opted for, and in just a few minutes, I was able to connect the printer successfully to a Mac- and a PC-based system.
This wide-format printer has a total of 30,720 nozzles with nonfiring detection and automatic compensation—so any nozzle clogging is handled automatically. Another great feature is that the printer heads are warranted for a full year or 10 trillion ink drops (1,100 24×36″ prints). Canon has installed a logging feature to track the overall life of the printer. The iPF6100 is also Energy Star compliant.
After the inks were loaded and run through a 14-minute setup, I was ready to start printing and performing some basic tests on sample paper supplied by both Canon and Hahnemüle (www. hahnemuehle.de). My first test was a 24×36″ print out of Adobe Photoshop Lightroom on glossy photo paper. (Lightroom offers wonderful color reproduction and great color saturation and detail.) The printer ran much quieter than other printers I've used, and printed much faster than I expected—a real plus.
Attempting the same print using Adobe Photoshop didn't work as well but thankfully Canon provides a Photoshop CS3 export plug-in that resolved this problem, bypassing the Photoshop Print feature entirely. When I used the plug-in, the prints were accurate, showed an impressive amount of color range and saturation, and a great amount of detail.
Switching between rolls proved easy and in 30 minutes, I had matte, glossy, and watercolor prints that looked amazingly accurate.
One of the biggest problems that I ran into was finding the correct drivers and ICC profiles on the Canon site even after I asked others to help in the search. A phone call to our Canon representative resulted in a CD with all of the required information and I was good to go. (Ideally, the process of setup should be a little more straightforward and the website more concise in their offerings.)
Overall, the Canon imagePROGRAF iPF6100 produced stunning prints at a variety of sizes. Its quick and quiet output was a welcome feature and its ease of use made for a pleasant print experience. While the ICC and driver problem was a bit of a turnoff, the quality of the prints more than made up for any frustration.—Rafael "RC" Concepcion
PRICE: $3,495
FROM: Canon U.S.A., Inc.
WEB: www.usa.canon.com
RATING: 4
LAYERS VERDICT
HOT Great color saturation, print speed, detail; quiet
NOT Website difficult to navigate for ICC profiles, drivers, etc.