Hands-On with the New Tamron SP 35mm and 45mm F/1.8 Fast Prime Lenses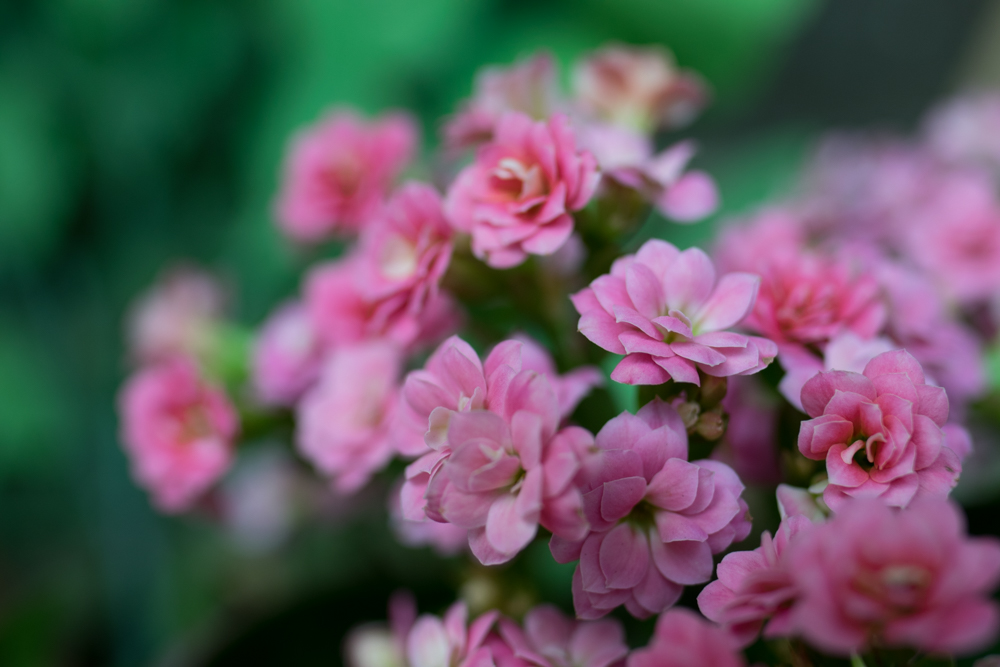 Tamron is redefining their SP Series of lenses with two new fast prime lenses: the SP 35mm f/1.8 Di VC USD (Model F012) and the SP 45mm f/1.8 Di VC USD (Model F013). The two new lenses have a revamped external appearance, with a clean easy-to-read typeface, and wide VC On/Off and AF/MF switches that have been raised from the lens body so they're easy to use while shooting with the camera. A pleasing luminous gold brand ring just above the lens mount lets people know that you're shooting with the new Tamron SP lenses.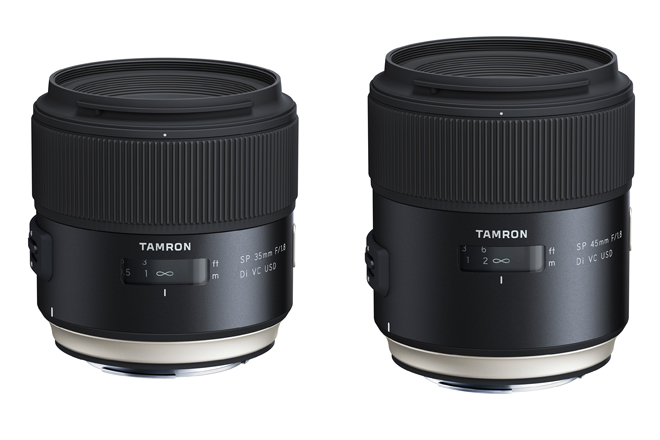 Both lenses are compatible with full-frame cameras but can also be used on APS-C format DSLRs, as well. (On APS-C sensors, the 35mm is equivalent to 54mm and the 45mm is equivalent to 70mm.) Apart from the fast f/1.8 aperture, another standout feature is the minimum object distance (MOD) of both lenses. The MOD for the 45mm is 11.4 inches for a magnification ratio of 1:3.4, but the 35mm is even better with a MOD of 7.9 inches for a magnification ratio of 1:2.5. This makes these lenses unique and versatile for getting both the story shots and the detail shots. And with Tamron's proprietary Floating System, image quality is maintained from extreme close-ups to normal shooting ranges.
To suppress ghosting and flare, Tamron has applied both eBAND (extended bandwidth and angular-dependency) and BBAR (broad-band anti-reflection) coatings to critical elements to reduce reflections and provide maximum light transmission. This reduces internal reflections that can cause ghosting and flare to a minimum. The eBAND coating, which is a hybrid nano-structured layer with extremely low refractive index coupled with multilayered anti-reflection coating technology, minimizes reflection of extremely angulated incident light. According to Tamron, this is something that can't be achieved by conventional anti-reflection coatings alone.
With VC (vibration compensation), the 45mm gives you 3 stops of stabilization and the 35mm gives 3.5 stops. Both lenses have 9-blade diaphragms for pleasing bokeh with circular shapes. The two new SP lenses are designed for impressive optical performance with modern-day DSLRs. Erik Valind, KelbyOne trainer and Photoshop User magazine contributor, recently had the opportunity to test the new lenses on a trip to Iceland. He reported that the new lenses produces images that are sharp from edge to edge even when shooting wide open, and that vignetting is minimal at f/1.8 and disappears at f/2.8. He also found that the AF (auto focus) works great even with fast-moving backlit subjects. And when shooting into bright lights like the sun, there's no flare, and the images maintain sharpness and good contrast even when shooting wide open.
Both lenses are sealed in critical locations to make them moisture resistant for adverse weather conditions. (Erik said it rained a lot in Iceland, and that he never had any trouble with the lenses.) Flourine coatings on the front lens element repels water and oil and makes the lens easy to clean. Both lenses have a filter size of 67mm. The 35mm is 3.2 inches in length (3.1 inches from Nikon), and weighs 16.9 oz. (15.9 oz. for Nikon). The 45mm is 3.6 inches (3.5 inches for Nikon), and weighs 19 oz. (18.3 oz. for Nikon). The 35mm has 10 elements in 9 groups and the 45mm has 10 elements in 8 groups.
Tamron flew me to NYC just before the announcement to give me the opportunity to spend a little time with the lenses. In my initial tests, it was pretty amazing how close you could get to subjects with the 35mm lens. The AF was responsive and I didn't see any distortion or vignetting. The design of the lens is very pleasing and it has a very solid professional feel. Here are a few unedited images (except for cropping) taken during the event. These were taken on a Nikon D3300. Stay tuned for a more in-depth review in an upcoming issue of Photoshop User magazine.
The new 35mm and 45mm SP Series prime lenses should be available in Canon and Nikon mounts on September 29 for around $599 each with a six year warranty in the U.S. A Sony Alpha mount should be available at a later date. For more information, visit www.tamron-usa.com.