GLUON ColorBreaker ID
INDESIGN PLUG-IN TAGS COLOR OBJECTS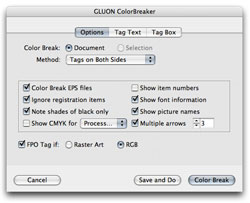 ColorBreaker ID is a plug-in that tags all the color objects and, as an option, the text formatting in your InDesign documents. It's available for InDesign CS3 or CS2 and is extremely easy to use, with only three dialogs of user-defined options: one for setting the items to be labeled, and the other two for formatting what the labels look like.
Overall, the plug-in did a good job: It creates labels near the edge of the page (a user-adjustable setting) and draws arrows to the objects in question, all on a new layer. You can easily move the labels with the arrows automatically updating, and they can be updated when you wish. Of course, the color breaks can be removed at any time.
ColorBreaker ID can definitely save hours of work if you need to label the color and text elements (required for some publication ad submissions); however, there are a few options that I wish it could do, such as:
• Auto-expand the slug area to include the labels.
• Make the new layer nonprinting.
• List paragraph and character style names (rather than the actual format info).
• Include color breaks for Illustrator and PDF files (currently, it can include EPS files).
I only ran into one minor bug with the plug-in: One page of labels had the top label running slightly off the top edge of the pasteboard.—David Creamer
PRICE: $199
FROM: GLUON, Inc.
WEB: www.gluon.com
RATING: 4
LAYERS VERDICT
HOT Easy to use
NOT Could use a few extra features