Gateway E-295C
Write Directly On The Screen With This Convertible Notebook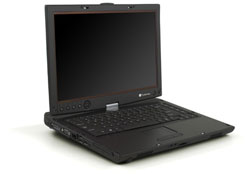 With several features that should appeal to graphic artists and photographers, the Gateway E-295C Convertible Notebook includes the convenience of a built-in, 7-in-1 memory card reader and the ability to convert the notebook into a tablet by simply pivoting the screen to lie flat over the keyboard. This adjustment turns the scratch-resistant glossy screen into a sketch board and allows you to write directly on the 14″ display with the included Wacom stylus—similar to using a Wacom Cintiq—and it performs beautifully. The screen responded instantaneously to the stylus as I made various image manipulations within Adobe Photoshop Elements.
There's a five-way navigation control for page scrolling and brightening the screen when in the tablet mode. On the screen's bottom left are four control buttons that default to features such as rotating the contents of the screen, opening Window's journal notebook, etc. And one of the buttons can be programmed to open any application. The tablet also supports handwriting recognition and converts script into text for placing in emails or a text document. I found the text conversion to be accurate about 85% of the time, but occasionally I had difficulty getting the text input panel to work with Microsoft Word. Note: This is a known issue to tech support and I was reassured that it's being dealt with.
The brushed-black notebook operates quietly, has a solid feel, and performs quickly and smoothly. At 6.2 lbs, however, it's heavy to carry around all day. Booting up takes 50 seconds and browsing the Web and running various graphics applications was fast and problem-free with a built-in Wi-Fi card.
Indoors, the screen is bright and colors are consistent from edge to edge; however, it has a narrow angle of view, and in bright outdoor light, the screen washes out. The screen's native resolution is 1280×768 but it can go out to an external monitor via the VGA port and support a resolution of up to 2048×1536. The screen is hinged and can pivot 180° smoothly for sharing with others.
You can customize the E-295C Convertible Notebook. The one I tested had an Intel Core 2 Duo processor running at 2.2 GHz and it shipped with a modest 80-GB, 5,400 rpm hard drive, 2 GB of RAM (holds a maximum of 4 GB), and a preinstalled copy of Windows Vista OS. It came with an ATI Mobility Radeon HD 2300 graphics card with 256 MB of RAM and a combo, optical DVD/CD drive that can be swapped out for a second battery.
On the left of the keyboard is a practical feature to place icons representing the numerous connectivity ports found directly underneath on the side. The E-295C has three USB ports, one FireWire, a PCMCIA expansion card slot, Ethernet, and a VGA port. The unit came with a standard, 8-cell, lithium-ion battery that lasted an impressive 5.5 hours with continuous use—and the notebook never got hot. The Gateway E-295C Convertible is an impressive notebook.
Note: In recent months, MPC Computers acquired Gateway's business class notebooks, including the E-295C.—Steve Baczewski
PRICE: $1,539 (base)
FROM: MPC Computers
WEB: www.mpccorp.com
RATING: 4
LAYERS VERDICT
HOT Fingerprint pad reader
NOT Weak speakers