Eric Meyer's CSS Sculptor
TEMPLATE-BASED, CSS LAYOUT CREATOR FOR DREAMWEAVER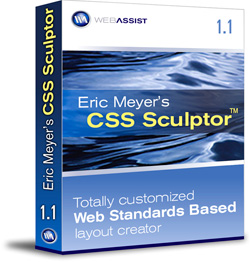 CSS guru Eric Meyer, in collaboration with WebAssist, has released CSS Sculptor for Dreamweaver. This easy-to-use extension makes creating CSS layouts in Dreamweaver a snap. The last two releases of Dreamweaver included CSS templates; however, users needed an in-depth knowledge of CSS to modify the layouts. Enter CSS Sculptor!
This template-based application makes it easier for both designers and programmers to quickly design CSS layout. It's easy to install this extension using the Manage Extension Command in Dreamweaver, and then the application is launched by choosing File>New CSS Sculptor Page.
The interface contains six tabs: Layout, Box, Type, Design, Print, and Output. Each tab's screen contains controls for customizing the look of the final page. Layout (the first tab) contains 41 different CSS layouts, including one-, two-, and three-column static, elastic, fluid, fixed, and hybrid layouts with optional header and footers. Users can select from the included color schemes or create their own. The ability to customize almost all aspects of a layout from margins and padding to borders and colors is a welcome attribute.
I have to say that when I initially opened the program, I was skeptical of how useful it would be…but I quickly changed my mind. CSS Sculptor allowed me to generate a custom layout for a client that conformed to Web standards, was accessible, and best of all, contained the code necessary to correctly display pages in Firefox, Safari, and Internet Explorer. CSS Sculptor is one of those programs where you might find yourself saying, "I don't know how I got anything done without it!"—Cyndy Cashman
PRICE: $99.99
FROM: WebAssist.com Corporation
WEB: www.webassist.com
RATING: 5
LAYERS VERDICT
HOT Cross-browser compatibility
NOT