Epson Perfection V300 Photo Scanner
GREAT SCANS AT A GREAT PRICE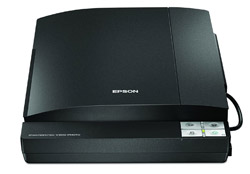 The Epson Perfection V300 Photo flatbed scanner comes with impressive stats, easy-to-use software, quick scan times, and for less than $100 it's quite a bargain. It scans documents and 35mm transparencies at up to 48 bits at an optical resolution up to 4,800 dpi (dots per inch). It uses an LED light source that consumes less power, diminishes warmup times, and enables fast scan speeds.
The USB 2 scanner measures 16.9(L)x11(W)x2.2(H)" with a scanning bed that measures 8.5×11.7″. The front control panel has several one-touch buttons with specific tasks, such as scanning documents to email or converting documents to PDF files. The lid houses a built-in light unit for scanning 35mm negatives and slides. The included 35mm plastic film holder can hold a six-frame filmstrip and four slides. The lid also lifts to accommodate scanning books or 3D objects.
The Epson Scan software covers the bases. It has a fully automatic option for beginners and a professional mode with a plethora of controls. A new office mode optimizes scanning text. The software does a good job restoring color to old faded photographs, removing dust, and correcting for back lighting. Results of both reflective copy and film scans were impressive—accurate colors, good shadow and highlight detail, and smooth gradients. Text was very clean and crisp. It took a snappy 25 seconds to scan a 35mm transparency at 1,200 dpi at 48 bits.
The Epson Scan software can work as a standalone application or as a plug-in for third-party imaging programs. There's an issue using the V300 with Adobe CS4 on Intel-based Macs. In CS4 there's no TWAIN plug-in for accessing scanners such as the Perfection V300. Adobe is aware of this and has posted several workarounds to resolve the issue.—Steve Baczewski
Company: Epson America, Inc.
Price: $99.99
Web: www.epson.com
Rating: 4.5
Hot: Impressive scans; inexpensive
Not: No option for scanning larger than 35mm film format