Eizo FlexScan S2242W LCD
QUALITY LCD PACKS MORE INFO IN LESS SPACE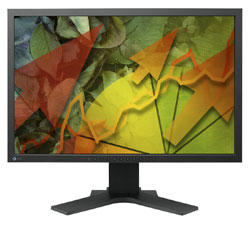 The 22″ Eizo FlexScan S2242W LCD features a high native resolution of 1920×1200 usually found on larger sized monitors. This allows you to see approximately the same amount of information that's visible on most 24″ displays but occupies less space. The best part is that this doesn't compromise image quality or create text that's difficult to discern.
The 16:10 screen sits on a sturdy stand, and you can adjust its height, tilt, and swivel, as well as rotate it from landscape to portrait mode. The display has DVI, VGA, and two USB inputs (but no HDMI). The control panel along the bottom is a poorly designed row of 10 buttons; the symbol and letter designations on the buttons aren't clear as to what functions they represent. However, the onscreen menu offers a lot of features to adjust the display, including gamma, brightness, contrast, color temperature, saturation, hue, and RGB color gain.
The S2242W comes with factory presets for optimum viewing in specific situations, and Eizo's Auto EcoView uses a sensor to adjust the screen's brightness in an attempt to save energy. The company sells an optional software/hardware color management solution called EasyPIX for making customized ICC profiles. I calibrated and profiled the display resulting in an accurate match between screen and print. Color fidelity is impressive. The display reproduces 95% of the Adobe RGB color space. Images were evenly illuminated across the screen, colors were right on the money, and the screen's 1200:1 contrast ratio revealed lots of detail in both highlights and shadow areas. The S2242W boasts a wide viewing angle; however, there was some noticeable reduction in brightness at extreme angles.
This is a very good all-around monitor, but depending on your needs the 22″ size might be a limiting factor for graphics professionals.—Steve Baczewski
Company: Eizo Nanao Corporation
Price: $879
Web: www.eizo.com
Rating: 4.5
Hot: 1900×1200 resolution
Not: Control panel