DIY: Light Stand Carrier
A few years back, Joe McNally had a truckload of photography gear shipped to our offices in preparation for a photo shoot. In the gear, I noticed that his light stands were packed in a few hard plastic cases that had rollers on the bottom. The cases looked like rolling, hard-sided, golf bag travel cases, only a little bit longer; however, his cases were super-heavy-duty (read expensive!), but I don't travel nearly as much as Joe, nor do I have his volume of equipment.
Build Your Own Light Stand Carrier
Fortunately, when I saw these, it was fall and the golfing season was winding down. I had time, therefore, to make a few trips to a couple of the local sporting-goods companies—specifically, Play It Again Sports and the Sports Authority. Both chains offered some hard-sided golf bags at discounted prices, and I bought a decent one for around $40!
Of course, a hollow plastic case isn't really ready to haul light stands because the stands would just rattle around inside the case. So, my next stop was Walmart to pick up a blue camping mat (a pad that goes under your sleeping bag). You'll generally find these for less than $6. Now, you can put your collection of light stands in the golf bag case on top of the mat, and you're almost ready to roll!
Make a Few Modifications
Because of the structure of the particular generic case I bought, I had to make one modification. Long cases like this are sometimes hard to lift because they don't necessarily have handles at the center of gravity for lifting and manipulating. To make it easier for me to lift the case into my car, I thought it made sense to add a handle in the middle of one side. Although the case wasn't super-heavy-duty plastic (like a Pelican case), I knew that just screwing a handle into it wouldn't last long. Instead, I bought a plain metal drawer pull and used a scrap of wood to back it. Not only do I now have a handle just where I need it to facilitate easy lifting, I'm also not worried about the handle ripping up the plastic.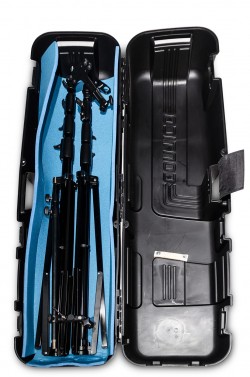 TIP: During golfing season scope out the case you think you might want, and just wait until the end of the season when they go on clearance.
We have lots of great (and free!) tutorials on PlanetPhotoshop like this one for Creating Reflections. If audio is your thing, here is a tutorial for editing audio in Audition.