DiMAGE Z6

6-megapixel digital camera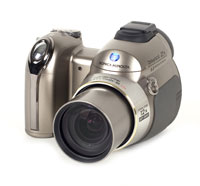 DiMAGE Z6 by Konica Minolta
After evaluating several of Konica Minolta's digital cameras from previous models in this class with less than stellar results, I was anxious to review the DiMAGE Z6 to see if they had made substantial improvements to the product line. The 6-megapixel digital camera boasts a lot of features, a lot of lens, and a lot of capabilities in their marketing, but what I found was essentially a good, mid-sized digital camera that takes good quality images in most situations—and that's a real improvement over its predecessor, the Z5.
The Z6 is a camera with "feel." What does that mean? Well, the body is solid, the ease of use is there, and there's a navigation system that's much improved in terms of its usability. While the size may be "purse-prohibitive" for some, you may not mind having an actual camera bag for this model. The wide range of settings and controls allows for as much or as little control as one might want and a reasonably effective anti-shake enhancement. The images are clear and sharpness is very good in most direct lighting; however, more diffused environments produced slightly underexposed results and more shadowed well-lit areas produced higher amounts of noise in the images.
The focus and metering in the DiMAGE Z6 is multi-zone, but hesitates in lower lighting conditions—even those that wouldn't be considered "dark," as such. As I've said in previous DiMAGE product reviews, the need to manually raise the flash, in spite of the fact that there's a hot shoe, is an extra step that may mean a lost moment when every second counts to get your shot.
The DiMAGE Z6 is a good camera and does offer a lot of value, but it's not a great camera. Konica Minolta has done a fine job of responding to so many of the criticisms regarding their previous models, especially regarding latency and shutter lag, but there's still room for improvement overall.
PRICE: $399.95
FROM: Konica Minolta
PHONE: 800-285-6422
WEB: www.konicaminolta.com
RATING: 3