ColorEdge CG210 LCD Display
A serious display for serious graphics professionals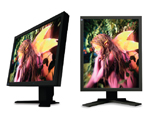 The Eizo ColorEdge CG210 LCD display, with a native resolution of 1600×1200 and a contrast ratio of 550:1, is a precision 21.3″ monitor designed for graphics professionals who demand accurate, consistent color reproduction and reliable color management. Its $2,899 price tag might thin the herd, but this monitor delivers.
A thin, dark-gray bezel surrounds the screen, which can be tilted back 40°, swiveled 35° left or right (for a total of 70°), and raised 3.2″ from its base. The incorporated motion sensor allows pivoting the display from landscape to portrait mode without a hitch.
The eight-button control panel on the bottom frame is painted the same color as the rest of the frame, making the buttons diffi cult to read and nearly indistinguishable. The CG210 has both analog and DVI connectivity and also includes three powered USB ports on the back.
Eizo's ColorNavigator software allows hardware calibration in conjunction with products such as GretagMacbeth's Eye-One. The results were impressive— precisely matching colors and flesh tones on the test target. Gradients were smooth, colors and brightness were uniform from edge to edge, and the claim of 170° viewing angle was off by just a few degrees.
Most impressive was the detail in the shadow and highlight areas. I measured the shadow detail by creating a background layer, filling it with pure black (R:0, G:0, B:0), created within it a rectangular selection, and on an adjustment curve I was able to perceive a distinction with an output of only R:1, G:1, B:1. That's hot! The CG210 should satisfy the most critical graphics professional.
PRICE: $2899
FOR: Mac and Windows
FROM: Eizo Nanao Technologies, Inc.
PHONE: 800-800-5202
WEB: www.eizo.com
RATING: 4.0