Canon VIXIA HV30
HIGH-DEFINITION MINIDV CAMCORDER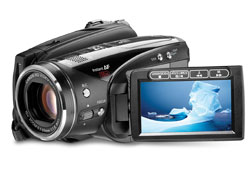 The Canon VIXIA HV30 is the successor to the wildly popular HV20 camcorder. While the changes are minimal, this camera does not disappoint. Coming in at just over a pound, it's small enough to put in a backpack or coat pocket.
The HV30 records images at a resolution of 1920×1080—essentially 1080i and widescreen video. It sports a 10x zoom at f/1.8, touts Canon's Optical Image Stabilization technology, and can capture 3.1-megapixel still images. The camcorder also comes with a built-in light, internal lens cover, multiangle screen, and HDV/HDMI connections to the right of the battery in the back.
One thing that's mildly annoying is the viewfinder. When outdoors, I usually like to use the viewfinder because the LCD screens are hard to see. The viewfinder on the HV30 is fixed to the back of the camera and doesn't tilt—similar to the HV20's design.
The camera is capable of recording in 24p and the newly added 30p modes—making a bid to win over the shoot-and-upload crowd because most video sites convert to 15p. I recorded footage at both settings and downloaded it to my Mac with no problems.
Video quality is crisp, with a lot of detail and nice colors coming from the camera. The camera focuses well, and I'm happy with the audio quality.
The VIXIA HV30 has wonderful video quality, great sound, and provides a host of features for someone looking to shoot in a variety of video formats. The design is compact enough to carry around, and stylish enough to show off.—Rafael "RC" Concepcion
PRICE: $999
FROM: Canon U.S.A., Inc.
WEB: www.usa.canon.com
RATING: 4.5
LAYERS VERDICT
HOT 24p and new 30p modes; sleek design
NOT Eyepiece not moveable