Canon PowerShot D10
COMPACT CAMERA FOR THE ADVENTURER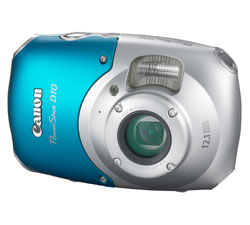 The Canon PowerShot D10 is billed as a rugged camera for the adventurer, and it certainly looks and feels the part. The D10 is waterproof to 33′, shockproof to 4′, and freezeproof to 14° Fahrenheit. It incorporates important features, such as a 12.1-megapixel CCD sensor, optically stabilized 3x zoom lens (35–105mm equivalent), 2.5″ LCD, and video capability, all in a solid body. Also included is an innovative wrist strap that you can attach to any corner of the camera (a carabiner is optional).
You'll find only essential buttons on the D10, but all settings are easy to access through the function buttons or menu. The zoom lens is fast and quiet, and the LCD is bright and easy to read in all lighting conditions. Battery life is great, requiring only one recharge during testing.
All of these features come together to produce images that are a mixed bag. My first recommendation is to use center weighted or spot metering only, as evaluative produced unpredictable results. The exposure and color were correct in some photos, while others had haloes, blown out subjects, or were out of focus. Switching to center weighted or spot metering remedied this, though focus was a bit soft at times.
The ISO range is from 80–1600, with a push to 3200. Noise is obvious at 400, prevalent at 800, and at 1600, the photos are so noisy and soft they're unusable. Why ISO 3200 is even offered is beyond me (plus you have to access it as a scene mode and not through the ISO settings). Macro photos are sharp, and shooting underwater yielded good results when using center weighted or spot metering.
If you're looking for a tough compact camera you can take almost anywhere, use poolside, or when kayaking or canoeing, the PowerShot D10 might be what you're looking for, provided you're not expecting professional results.—Mike Mackenzie
Company: Canon U.S.A., Inc.
Price: $329.99
Web: www.usa.canon.com
Rating: 3.5
Hot: Rugged; great LCD; waterproof; versatile
Not: Somewhat unpredictable results; noise
Canon PowerShot D10 images
Click on thumbnail for larger image. All images ©Mike Mackenzie, except where noted.