B&H Photo Video Introduces Scott Kelby Photo Kit
B&H Photo Video has introduced the "Scott Kelby Location Kit" for photographers.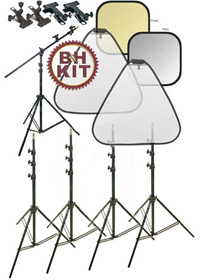 The bundle includes two Lastolite tri-grip diffusion panels; two lightweight 8′ light stands with two regular Bogen/Monfrotto clamps for holding the diffusion panels; and two of their "Justin" clamps — which allow the user to mount hot-shoe flashes and position them in any direction using the built-in ball head.
Additionally, the Scott Kelby Location Kit includes a Westcott 6-in-one reflector and a very slickly designed Impact boom stand with clips so that the reflector can be positioned precisely.
The Scott Kelby Location Kit is offered exclusively by B&H Photo Video and retails for $494.95 USD.