Acrobat 9: Product Review
NEW VERSION OF ADOBE'S PDF-MANAGEMENT SOFTWARE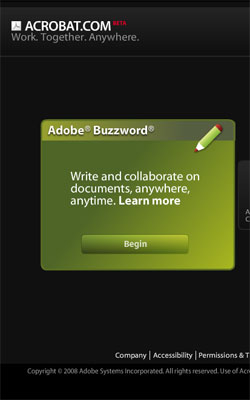 This new version of Acrobat has a lot going for it, however many of the "new" features are mostly improvements of existing ones—making it seem like more of a major update to version 8. Adobe is changing the line-up slightly, mainly for Windows, which will have three versions to choose from: Pro Extended, Pro, and Standard. Macintosh will (still) only have the Pro version. The Pro Extended version included the Acrobat 3D features and adds geospatial reference data support for working with PDF maps, multimedia transcoding to and basic editing support for Flash Video embedded in PDFs. (Some features of geospatial and multimedia authoring support are in the Pro version too.)
As in past versions, the Macintosh version is lacking some important features that the Windows version has. Just to clarify, the Acrobat Pro application is virtually identical on both platforms—it is the other applications that come with the Windows version that create the difference. The Pro Extended version, LiveCycle Designer, and PDF Maker are only available on Windows. (With such useful programs missing, one would think that the Mac Pro version would cost less than the Windows Pro version.)
Some of the more interesting features are the ability to split a document into separate PDF based on page count, file size, and, best of all, top level bookmarks; the use of Acrobat.com for review cycles and form data collection (more on this later); and create a layered PDF with vector, text, and images moved to separate layers. Of course, depending on ones profession, other features might be just as important—such as…
PDFMaker
The PDFMaker can now make PDFs from selected content in Word, Excel, and PowerPoint (Office 2000 support is being dropped). Most AutoCAD files can be converted to PDF without having AutoCAD installed; in addition, PDF/E format is supported. Macintosh PDFMaker for Office is being dropped (not that it ever did that much anyway).
Redaction
Redaction, or the deletion and blocking out of sensitive information, now has the ability to search-and-redact text throughout a document, restrict redaction to specific page ranges, and a preference to automatically append "_redacted" to the file name.
PDF Portfolios
PDF Portfolios, formally PDF Packages, have been made much more attractive and useful feature. Although the basic premise is the same, but one can now preview Office files, most standard graphics files, and Flash files (.flv and .swf).
PDF Optimizer
Optimizer can now subset any embedded font and has an option to optimize an image only if it will reduce file size.
OCR
OCR accuracy has been improved with a new ClearScan setting replacing the older Formatted Text and Graphics setting; also, one can OCR multiple open files at once.
Geospatial
As mentioned, files imported with geospatial reference data can create PDF maps that the user can interact with. Only Pro Extended will have the main features for importing and updating data, however, all versions of Acrobat will be able to work with the maps.
Print Production
PDF/X-5 support has been added and the color conversion settings are better than ever, including better CMYK-to-CMYK conversion and better black ink handling. A nice addition to the Output Preview panel is the Object Inspector, which can give details on any selected object.
Forms
While the overall function of forms has stayed the same, the user interface is quite different and may bother some users. The Run Form Recognition has been changed to Start Form Wizard, but the biggest change is the Form tool bar—gone is the floating tool bar.
Acrobat.com and ConnectNow
Both commenting (which is virtually unchanged) and forms can both use Acrobat.com to distribute forms and for uploading PDFs for a comment review. Of course, users have the previous options available to them too, as some companies may not want to distribute forms or PDF for commenting through Adobe's servers. ConnectNow will be replacing the Acrobat Connect meeting feature of the past version. As I understand it, ConnectNow will be free for 3 users, with upgrade options to Acrobat Connect Pro. Details should be available by the time you read this.
Most users of Acrobat will probably find some features that will make the upgrade worthwhile. Depending on your use of Acrobat (and almost every area of Acrobat has been improved), this may be a must-have upgrade.—David Creamer
PRICE: $299 (upgrade $99)
FROM: Adobe Systems, Incorporated
WEB: www.adobe.com
RATING: 4.5
LAYERS VERDICT
HOT Improvements to just about every Acrobat feature
NOT No ground-breaking new features