Small Flash: Using Theatrical Gels for Small Flash with Bold Results
Step Five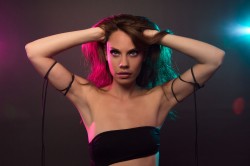 We started by breathing life into a boring background using a splash of color, then we turned that light onto our model and made it dance with color. Now let's blast that color into the camera lens and see what we walk away with. We moved both gelled flashes back behind our model, and turned them around. Then we added a third light with an Apollo Orb up front to light our model's face, just as we did for the first photo. Our initial shots were interesting, but lacked the atmosphere we'd envisioned with serious backlighting like this.
The color has to hit something in the image to be seen, which is tough when the lights are aimed out of the frame. Drawing inspiration from dance clubs, we used a fog machine to add something to the air for our light to land on. (You can usually find fog machines at Halloween stores, party rental companies, or photo and video rental houses.)
Here's a look at the light before and after things got a bit hazy. What a difference some properly placed fog makes!
You'll notice that all of the images in this article were lit solely by our flashes. One of the huge advantages of small flashes is the speedy light they produce. This fast light freezes our subject in her tracks, even if she happens to be dancing around the studio, as was the case here. At the same time, we understand that using a darker background and slightly underexposing the light produces deeper color saturation when using gels. The combination of these techniques allowed us to create a variety of dynamic images in a short amount of time.
Now that you have this knowledge, I recommend that you go out and run with it by applying more color to your images. Color can convey mood and emotion in a photograph, as well as produce some surprising and fun results.
[tps_footer]
For more tutorials on using gels, check out this article from RC Concepcion as he shows you how to use gels in your nighttime photography. RC and Scott discuss gels on this episode of Photography Tips and Tricks. 
[/tps_footer]