On Location Photography: Alley Shoot
Step Four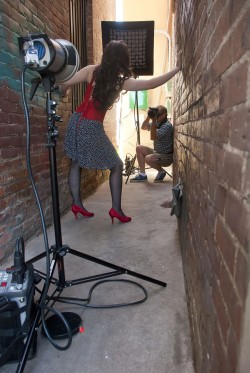 Now that I have nice light on Victoria's face, it's time to bring out the texture in the bricks and add accent light to her hair. To accomplish this, I put a second Ranger and head directly behind her. 
Initially, I used a grid on the flash to narrow the spread of light, but found the brick walls weren't getting enough light. Instead, I switched to a standard reflector on the head, which gave a wider spread of light. This light illuminated both the brick walls and her hair, adding a lot of drama to the shot. I triggered these flashes using an Elinchrom Skyport.
A great advantage of this wireless system is being able to control the flash output from the transmitter; for instance, I can use four different groups and control each separately. Finally, I adjusted the output of the accent light and really liked the shot.