Lighting for Weddings: Using Off-Camera Flash to Conquer Stage Lighting During the Reception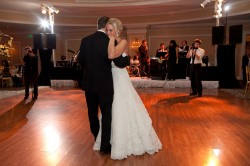 Achieving this lighting is fairly simple. The key is to find balance between the overpowering stage lights and the amount of power for the off-camera flashes. Typically, I like to use the lowest power setting on the flashes, but in this case the stage lights were quite bright. For the shots above, I used the LP160s at half power, which is a lot more than I typically use, but the situation warranted it. Even at half power with fresh batteries, my recycle time was still quite fast and lasted the entire evening (about 900 shots). My camera settings for the evening were f/3.5–4, 1/25–1/50 (depending on how far I was from the stage lights), and ISO 640.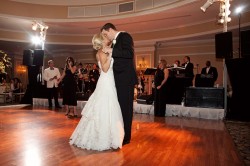 [tps_footer]
Jason was the special guest on Scott's blog this month. Did you miss that post? Go give it a read, here's the link! Now if you have your fun wedding shots, and want to add some drama with a black and white image, Matt Kloskowski has a preset for you. Jump to that article right here.
[/tps_footer]